Largest component for Germany's bio-LNG plant arrives in Rostock
A liquefied natural gas (LNG) tank for Germany's largest integrated bio-LNG plant has arrived in Rostock harbour, plant construction company EnviTec Biogas informed.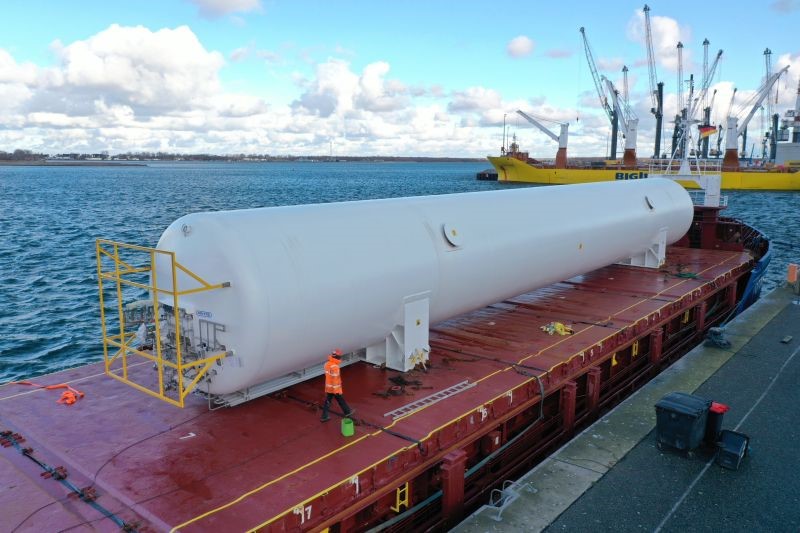 According to EnviTec's social media update, the almost 40-metre long and over 5-metre high LNG tank arrived in Rostock harbour on 7 December after 19-day voyage from Turkey.
The LNG tank is the largest component of the company's planned bio-LNG liquefaction plant in Güstrow.
Having reached German soil, it will be brought into position on the port site and then head towards Güstrow as a heavy transport.
Built by EnviTec, the plant was commissioned as Germany's largest biogas plant in 2009, running on around 400,000 tons of substrate.
According to information available on the project's website, the plant was purchased and transferred to EnviTec Own Investment in 2021.
In the new business operating model, Envitec plans to reduce input to 150,000 tons per annum. Agricultural residues will be primarily utilised and additional CHP units will be 'docked on' to supply 2.14 MWel of on-site power to the facility.
Conversion work on the Güstrow site required investment in a CO2 liquefaction plant and an LNG system for biomethane liquefaction amounting to €45–50 million.
Pilot operation for the Güstrow plant is scheduled for the second quarter of 2023. From mid-2023 onwards, EnviTec aims to facilitate the annual production of around 9,000 tonnes of bio-LNG.
Click here to read more about current bio-LNG projects.
Follow Offshore Energy's Clean Fuel on social media: