Largest offshore floating solar model aces tests in South Korea
Korea Hydro & Nuclear Power (KHNP), a subsidiary of Korea Electric Power Corporation (KEPCO), has completed performance testing on South Korea's largest floating solar power plant model.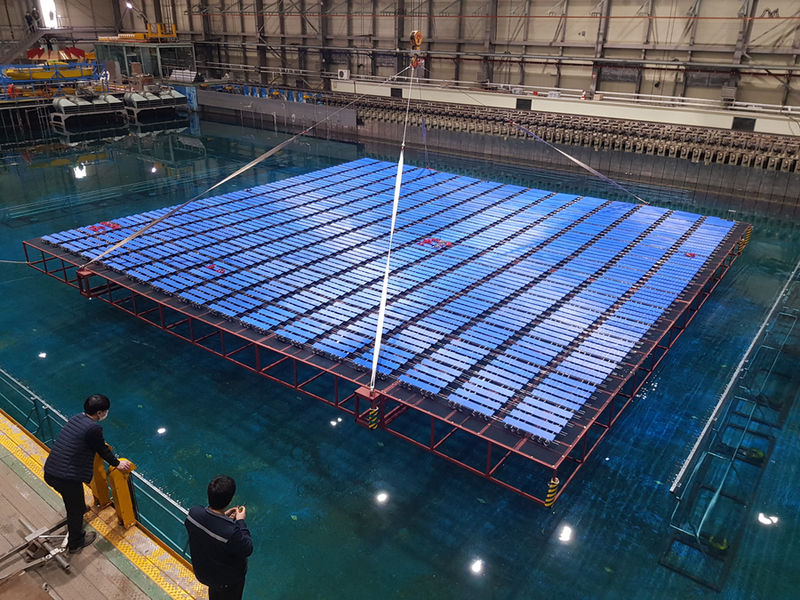 Since 2019, KHNP has been working with the Korea Research Institute of Ships & Ocean Engineering (KRISO) to develop solar power plant design standards applicable to the marine environment.
KEPCO's subsidiary informed it recently conducted numerical analysis of the floating solar system, and completed a basic design that meets the domestic and overseas marine design standards.
Based on this, KHNP built the largest offshore floating solar model in South Korea, spanning 15 by 14 metres, and weighing 1.17 tons.
The model was put to tests at KRISO's tank that simulates the marine environment to evaluate its performance. According to the KHNP, the tests were successful.
"The research represents the first big step for the offshore solar power generation industry", said Jae-Hoon Chung, president of KHNP.
Unlike floating solar projects installed on inland bodies of water, the offshore floating solar generation systems face additional challenges and harsher environmental conditions related to tides, waves, and salt, but KHNP said the successful performance testing of the scale model is expected to spur the development of South Korea's offshore floating power industry.