LNG-bunkering vessel cleared for autonomous navigation
SM Korealine Co., a shipping unit of South Korea's SM Group, revealed on Monday that its subsidiary Korealine LNG has received official authorization from its flag state of Panama for autonomous sailing operations of its liquefied natural gas (LNG) bunkering ship, named the SM Jeju LNG 2.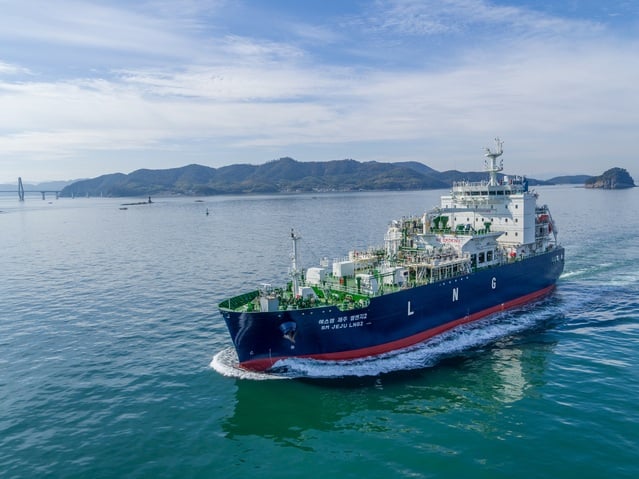 The LNG bunkering vessel, SM Jeju LNG 2, has been equipped with an autonomous ship navigation system, developed by shipbuilding heavyweight Samsung Heavy Industries (SHI).
SHI has already conducted a demonstration test of its system two months ago onboard a containership.
The demonstration, dubbed the industry's first, was carried out between South Korea and Taiwan.
The systems provided safe avoidance routes in the busy South China Sea when vessels approached head on or crossing the ship. The company emphasized the route adopted by the autonomous navigation system matched that determined by experienced navigators by over 90%.
The latest approval from Panama comes on the back of a series of trials the vessel conducted over the past year to test autonomous navigation along the Tongyeong-Jeju route.
The development is a direct result of a collaborative research initiative on the application of autonomous navigation systems for large- and medium-sized ships which was launched in June 2022 between KLC SM (a ship management subsidiary of SM Group), Samsung Heavy Industries, and the Korean Register of Shipping.
Moving forward, KLC SM and Samsung Heavy Industries have ambitious plans. They intend to formulate safety protocols and crew responsibilities for autonomous navigation. Additionally, they aim to lead the way in the realm of autonomous navigation by implementing upgrades that can be applied to both open ocean and intricate coastal navigation scenarios.
Commenting on this achievement, Kim Hyun-Jo, Director of the Autonomous Navigation Research Center at Samsung Heavy Industries, said the trial marks the opening of a new era of coastal autonomous navigation for large cargo vessels.
He emphasized the collaborative nature of the accomplishment, attributing it to the cooperative efforts of Samsung Heavy Industries, the Korean Register, and KLC SM.
Kim Man-Tae, CEO of SM Korealine, expressed the company's willingness to continue to cooperate with industry stakeholders in the development of advanced autonomous navigation systems and prepare for the autonomous shipping market.
Moving forward, the LNG bunker vessel SM Jeju LNG No. 2 (5,751 dwt), built in 2020, will now proceed with the next stage of the demonstration project.
Measuring 97 meters in length and capable of carrying up to 7,650 cbm of LNG, the vessel is stationed at the port of Anjeong, South Korea.