MacArtney's Fifth Research Vessel LARS Delivery in Asia Pacific
MacArtney has provided a third, fourth and fifth Launch and Recovery System in the Asia Pacific market this year for academic Ocean Research Vessels, the R/V New Ocean Researcher 1, 2 and 3.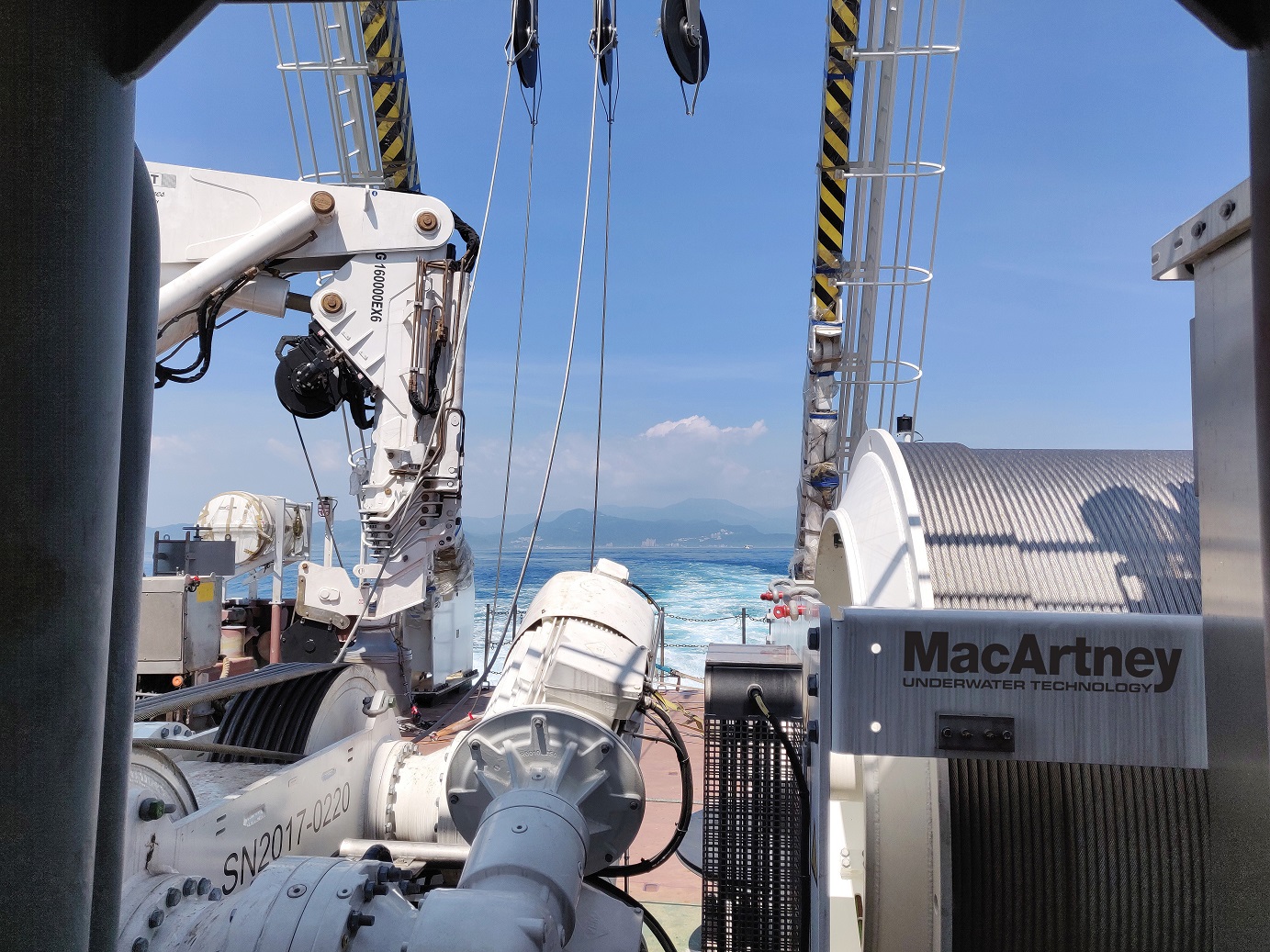 MacArtney Asia Pacific accepted a full LARS order for two 500 GT (Gross Tonnage) Ocean Research Vessels and one 1,000 GT ORV (Ocean Research Vessel). Recently coming to fruition, this order marks a MacArtney milestone with the delivery of now five Ocean Research Vessels in the Asia Pacific.
The first orders for the M/V KAIMEI and the M/V Shinsei Maru for Jamstec, Japan, successfully completed in 2015, singled out MacArtney as a full systems provider for Ocean Research Vessels and in close collaboration with CSBC Shipyard and facilitated by local distributor, Royalty Technology Instruments, MacArtney undertook to fulfil the needs of three new Ocean Research Vessels.
The two 500 GT Ocean Research Vessels, the R/V New Ocean Researcher 2 and R/V New Ocean Researcher 3 are to be managed by the National Taiwan Ocean University and the National Sun Yat-sen University respectively. Both vessels are currently completing Sea Acceptance Tests in the South China Sea.
The full customised scope of supply for the Launch and Recovery Systems aboard each vessel included:
· MERMAC Stern A-Frame (15 meters)
· Wireless Remote Operated Folded Boom Crane with 10-ton capacity and Active Heave Compensation
· Hydraulic Power Units for A-Frame and Crane
· MERMAC Storage and Traction Winch with 6,000 meters of ready spooled stainless steel wire, wireless remote and constant tension technology
· MERMAC CTD (Conductivity, Temperature, Depth) Winch including 6,000 meters of Armoured Coax Cable and Slip Ring
· Portable MERMAC Winch with 4,500 meters of Hybrid Instrumentation Cabling, Slip Ring and spare cable
MacArtney Managing Director of Asia Pacific Operations, Steen Frejo stated,
"The complexities of the scope of supply for this multi-million dollar project presented us with some challenges. However, these challenges were faced and met with MacArtney's continued dedication and focus to provide complex system solutions that meet the needs of the customer. Throughout this project, we have solidified our close working relationship with CSBC and look forward to future projects."
The fifth 1,000 GT vessel, the R/V New Ocean Researcher 1 is to be managed by the National Taiwan University and will be conducting the Sea Acceptance Test in September.