Maersk seals world's 1st methanol dual-fuel conversion project with Chinese shipbuilder
Danish container shipping heavyweight Maersk has signed its first methanol dual-fuel conversion project with Chinese shipbuilder Zhoushan Xinya Shipbuilding Co.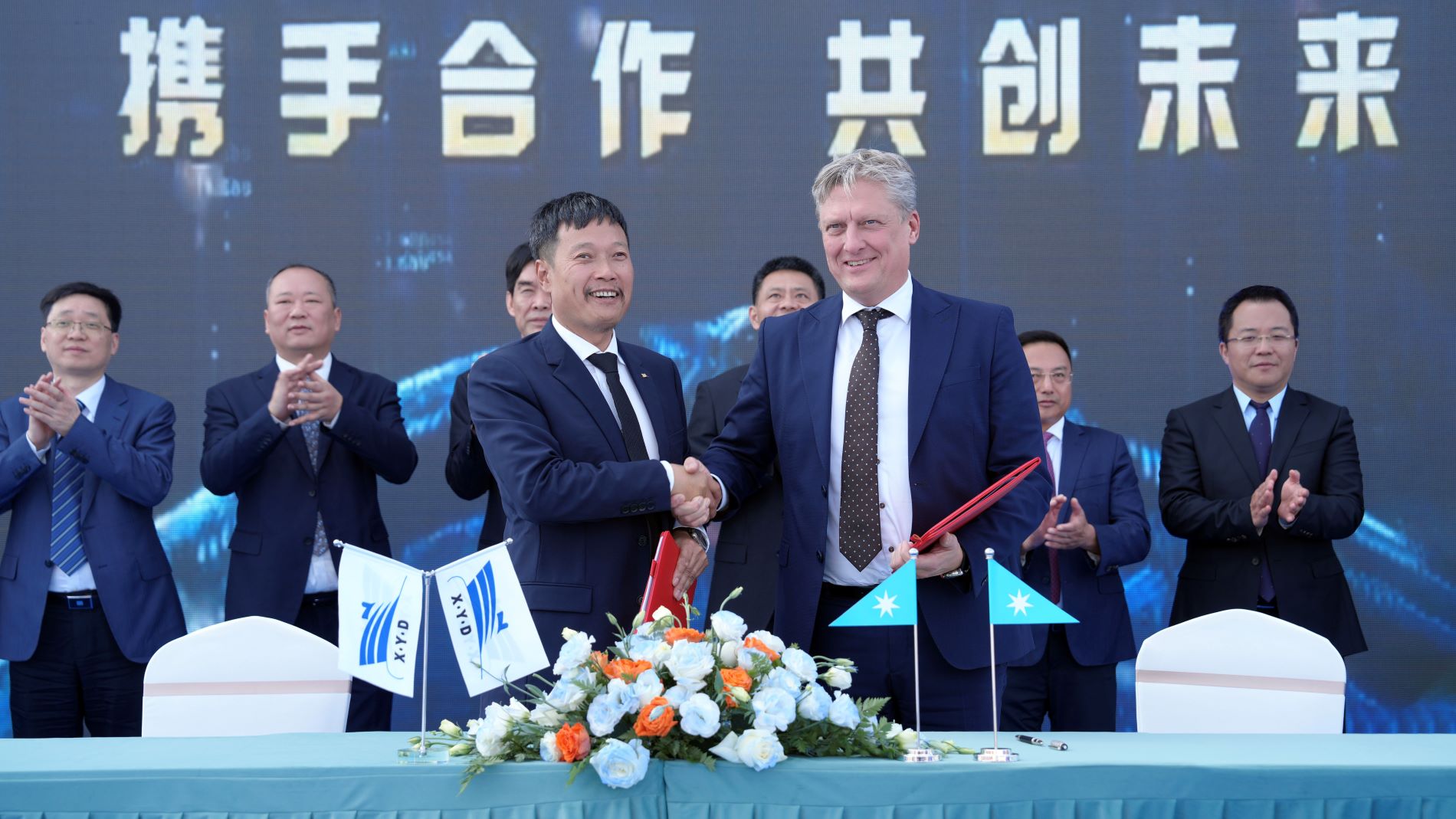 The momentous deal, inked during a special ceremony held on October 18, 2023, signifies the inception of the world's maiden containership methanol dual-fuel conversion project.
The strategic conversion of vessels to operate on methanol is currently a focal point in the shipping industry's relentless quest to reduce its carbon footprint. The demand for retrofits also has a huge market potential for the ship repair industry.
Maersk announced the retrofit plans for an existing containership in June this year. As disclosed, the conversion to a dual-fuel methanol propulsion is scheduled for 2024 and Maersk is planning to expand the retrofit project on a number of sister vessels when going for a special survey in 2027.
To this end, Maersk has contracted German MAN Energy Solutions (MAN ES) to retrofit the engine.
Under the agreement with MAN ES, a total of 11 vessels equipped with MAN B&W 8G95ME-C9.5 prime movers will be retrofitted to dual-fuel MAN B&W 8G95ME-LGIM10.5 types capable of operation on fuel-oil/methanol.
Zhoushan Xinya Shipbuilding revealed that it had won the contract to implement the world's first containership methanol retrofit for Maersk Group at the end of September.
Speaking at the ceremony, the shipyard's General Manager, Xia Songkang, expressed his gratitude and highlighted the unwavering support from government officials and Maersk, for making this endeavor a reality.
The yard's head described the signing of this pioneering methanol conversion project as a historic accomplishment for Zhoushan Xinya Shipbuilding, propelling the company into a realm of sustainable ship construction and repair.
Brian Voldsgaard, Senior Purchasing Director of Maersk Group, elaborated on Maersk's unwavering commitment to shaping a cleaner, more sustainable shipping industry.
By venturing into the world's first container ship methanol dual-fuel conversion project, Maersk reinforces its dedication to becoming a beacon for decarbonization within the global maritime sector, Voldsgaard said.
The project aligns with Maersk's 2040 net-zero emissions target and charts the path toward a sustainable future, embodying the vision of eco-friendly shipping.
The conversion project is the latest milestone in Maersk's strategy of adoption of methanol as part of its decarbonization efforts.
In September, Maersk christened its first methanol-powered containership, Laura Maersk.
In addition, at the beginning of October, South Korea's Hyundai Heavy Industries (HHI) launched the first of twelve Maersk's 16,200 TEU methanol-powered container ships.
Maersk has ordered a total of 25 methanol-powered container carriers from shipbuilders such as Hyundai Heavy Industries, Hyundai Mipo Dockyard, and Yangzijiang Shipbuilding Group.
This order includes six vessels with a capacity of 17,000 TEU, twelve 16,000 TEU boxships, and one feeder ship ordered in 2021. Additionally, six mid-sized container vessels are under construction at Yangzijiang Shipbuilding Group in China.
Maersk aims to have its full fleet of methanol-powered vessels operational by 2027.