Maersk ups the ante with order for six more methanol-powered containerships
Danish container shipping heavyweight A.P. Moller – Maersk (Maersk) has placed an order for six mid-sized container vessels with Yangzijiang Shipbuilding Group.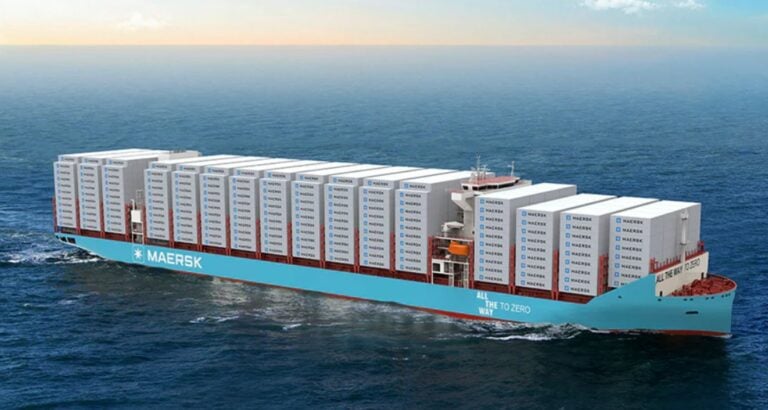 The company said that the six 9,000 TEU vessels will all have dual-fuel engines able to operate on green methanol and fuel oil. The ships are slated for delivery in 2026 and 2027.
Upon delivery, the vessels will replace the existing capacity in the Maersk's fleet.
By replacing vessels in a similar size segment, Maersk estimates that the new vessels will reduce the company's annual greenhouse gas emissions by about 450,000 tons CO2e per year on a fuel lifecycle basis when operating on green methanol.
"With this order, we take another step in the green transformation of our fleet and towards our target of becoming net-zero in 2040. As with all our other vessel orders for the last two years, these ships will be able to run on green methanol," says Rabab Boulos, Chief Infrastructure Officer at Maersk.
In 2021, Maersk ordered the world's first methanol-enabled container vessel following a commitment to the principle of only ordering newbuilt vessels that can sail on green fuels. Just two years later, the global orderbook stands at more than 100 methanol-enabled vessels.
By ordering additional six vessels, Maersk now has 25 methanol-enabled vessels on order.
"For these six container vessels, we have chosen a design and vessel size which make them very flexible from a deployment point of view. This will allow these vessels to fill many functions in both our current and our future network, thereby offering the flexibility our customers demand. Once phased in, they will replace existing capacity in our fleet," says Boulos.
Later this summer, the first methanol-enabled vessel, a 2,100 TEU feeder vessel, will be delivered to Maersk.
The feeder vessel is nearing construction completion and is getting ready to embark on its sea trials later this month.
Maersk has also announced plans of retrofitting its existing fleet to run on green methanol as part of its sustainability agenda. The first retrofit is scheduled for 2024 in cooperation with German MAN Energy Solutions (MAN ES).
Under the agreement with MAN ES, a total of 11 vessels equipped with MAN B&W 8G95ME-C9.5 prime movers will be retrofitted to dual-fuel MAN B&W 8G95ME-LGIM10.5 types capable of operation on fuel-oil/methanol.