Manatua cable ready for service
The Manatua One Polynesia Cable project has been delivered by SubCom and is now officially ready for service.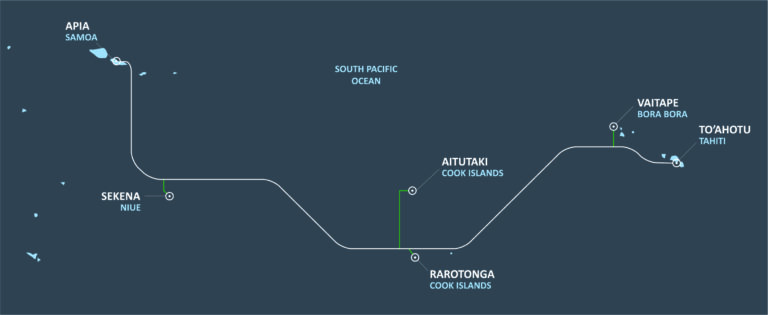 The announcement is the culmination of three years of planning, design, cable manufacture, and cable laying.
Since completing the cable lay in January 2020, the focus has been on commissioning and testing.
Despite disruptions from the global COVID-19 pandemic during the latter stages of the project, which restricted the movement of critical test resources, the Manatua system has been delivered on time and within the original budget.
The new 3600-kilometre optical fibre submarine cable now spans the South Pacific and will transform speed, capacity, resilience, and affordability.
The cable connects Tahiti and Bora Bora in French Polynesia, Rarotonga and Aitutaki in the Cook Islands, Niue and Samoa.
It is also the first submarine cable in the Cook Islands and Niue, which until now relied on satellite connectivity.
Once operational, the Manatua cable should provide service for at least 25 years.
The system comprises two optical fibre pairs, each capable of carrying data at 10 Terabits per second (= 10,000,000 Mbps).
Edouard Fitch, President of French Polynesia, said:
"I consider this cooperation as a fantastic technical advancement and a milestone in terms of connectivity for our Polynesian region, which will allow us to a broader connectivity to the World."
Honourable Henry Puna, Prime Minister of the Cook Islands, also said:
"Through Manatua, our four nations have achieved together something that was unattainable individually. Because of that collaborative spirit, our people will be connected. This project is the dawn of a new era of cooperation and collaboration across Polynesia."
Dalton Tagelagi, Premier of Niue, further stated:
"Niue's connection to the Manatua Cable network is a key investment for a world-class telecommunications infrastructure to expedite Niue's technological future that is crucial for the development of the country.
"It will enable a digital platform for improvements to education, health, other government services and to the private sector enhancing the business and tourism markets."
Tuilaepa Malielegaoi, Prime Minister of the Independent State of Samoa, said:
"The Manatua Cable is a physical embodiment of the Polynesian leaders' shared vision of a connected Pacific region.
It will strengthen our cultural connections, drive economic development and employment, and create the foundation for the digital transformation of all our countries."