McDermott, BHGE selected as development partners for Equus project
McDermott and Baker Hughes, a GE company, have signed a memorandum of understanding (MOU) with Western Gas Corporation to be the exclusive development partners for the Equus Gas Project in Western Australia.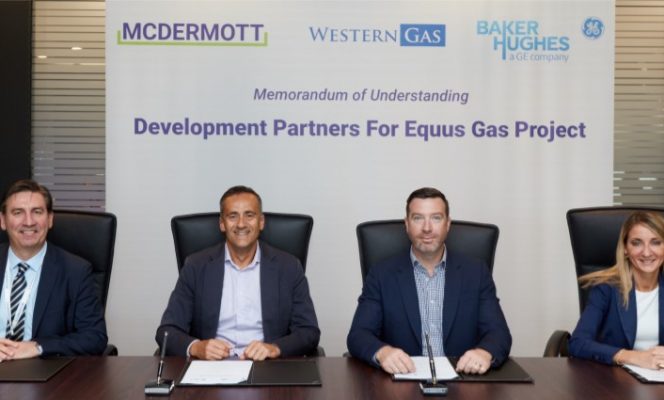 ---
The companies were also awarded a contract to support the planning phases of the project, McDermott said on Wednesday.
As part of this initial contract, McDermott and BHGE will work with Western Gas to advance the pre-front end engineering design (pre-FEED) and front-end engineering design (FEED) to final investment decision (FID), which is expected in late 2019.
McDermott and BHGE's joint venture, io Oil & Gas Consulting, will provide the pre-FEED support to deliver a technically robust and cost-efficient development plan. McDermott's portion of the contract is classified as sizable, which means its value is between $1 million and $50 million.
Pre-FEED work will start immediately and is estimated to be complete by 2Q 2019. McDermott and BHGE will continue with FEED work thereafter.
Upon FID, McDermott and BHGE are expected to undertake the engineering, procurement, construction, installation and commissioning (EPCIC) of the entire field development scope under a separate contract. The scope will cover reservoir evaluation, drilling and completions, subsea, production facilities, an export pipeline, an LNG facility and a domestic gas connection facility.
Ian Prescott, McDermott's Senior Vice President for Asia Pacific, said: "In close collaboration with BHGE, we are taking a holistic approach to field development from drilling, subsea, production facilities and an export pipeline to an LNG facility and onshore gas connection. By more closely connecting each stage of the project, we aim to drive significant efficiencies and cost savings for Western Gas through the full life of the field."
Andrew Leibovitch, executive director for Western Gas, said: "It was important to us to engage with partners that could offer a full field development and execution solution that would help deliver an efficient development plan, enhance project economics and reduce time to first gas."
Equus project
The Equus gas fields are located about 124 miles (200 kilometers) north-west of the Western Australian town of Onslow. The fields' water depth ranges from 3,280 feet (1,000 meters) to 3,937 feet (1,200 meters) with an anticipated downstream nearshore LNG facility and pipeline connection to the Western Australian gas market.
The Equus Gas Project is a development-ready asset with an extensive history of exploration and appraisal activities and development studies.
McDermott and BHGE have participated in the exploration appraisal drilling program and FEED studies with the previous owner Hess before Western Gas acquired the asset in November 2017.
According to Western Gas, the Equus Basis-of-Design is for a phased development, with the initial development comprising three production wells linked by subsea infrastructure to a floating production storage and ogfloading (FPSO) unit. Facilities on-board the FPSO will include gas dehydration, condensate stripping and gas compression.
Dry sales gas will be piped to a nearshore LNG production facility. Sales gas will also be piped on shore for Western Australian domestic gas supply.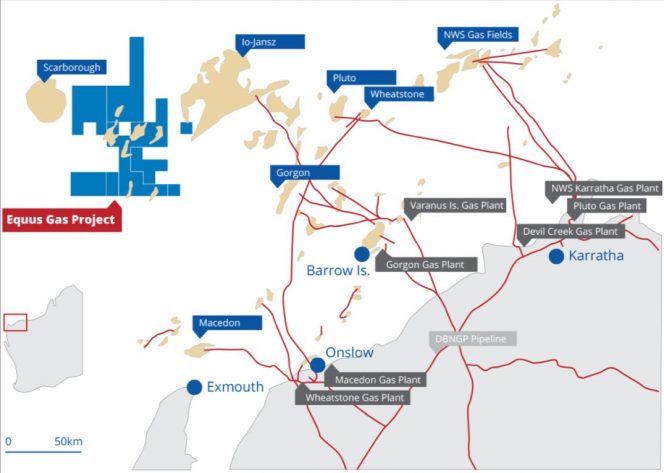 Related news
List of related news articles