Meyer Werft Announces Float Out of Norwegian Encore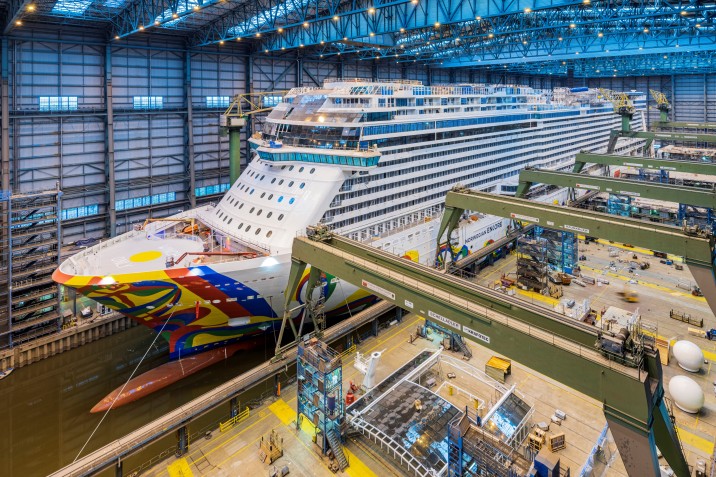 Norwegian Cruise Line's newest ship, Norwegian Encore, is scheduled to leave the covered building dock II at Meyer Werft shipyard in Papenburg on August 17, 2019, German shipbuilder said.
Once the 169,145 GT Norwegian Encore leaves the dock, it will berth at the shipyard's outfitting pier to be fitted with its funnel cladding.
The newbuild will then remain in the shipyard port for further outfitting work and onboard trials until its passage through the river Ems up to the North Sea, which is expected to take place at end of September.
For Norwegian Encore to be able to berth at the outfitting pier, the floating section –engine room unit — of P&O's Iona that is currently moored there will have to be moved to another berth in the shipyard port. After Norwegian Encore leaves dock, the floating part for Iona, which is due for completion in spring 2020, will be maneuvered back into the free covered building dock II for further construction work, Meyer Werft explained.
Being the fourth ship in the Breakaway Plus class, Norwegian Encore measures 333.46 meters in length and 41.4 meters in width, with capacity for 4,004 passengers.
The cruise vessel will offer seven-day cruises to the Eastern Caribbean from Miami beginning November 17, 2019, through April 12, 2020.
Image Courtesy: Meyer Werft