Meyer Werft readies world's first LNG liner for float-out
Meyer Werft shipyard in Papenburg is ready to float out the world's first LNG-fueled cruise ship, the AIDAnova from its covered building dock on August 21.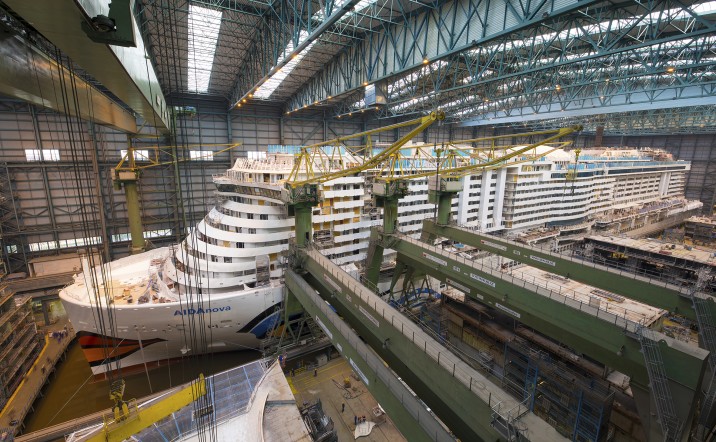 Once it leaves the building dock, the vessel being built for AIDA Cruises will berth at the shipyard's outfitting pier, where its mast and funnel cladding will be fitted.
Meyer Werft noted in its statement, that the vessel is scheduled to pass the river Ems to the North Sea at the end of September. However, until then, it will remain berthed at the shipyard harbor.
"While it is there, it will undergo further outfitting and work on its interior fittings, and further testing with LNG will be performed on the ship's engines; acceptance procedures by the ship owners will also take place," the statement reads.
To enable the AIDAnova to berth at the outfitting pier, the floating part of the Spectrum of the Seas that is currently moored there will be moved to another berth at the shipyard harbor. Once the AIDAnova has undocked, the floating part of the Spectrum of the Seas currently being fitted at the pier will be maneuvered back to the vacated building dock II, where work will continue.
The AIDAnova will have over 2,600 passenger cabins, with a gross tonnage of over 180,000, a length of 337 meters and a width of 42 meters.