Navantia-Windar starts Saint-Brieuc jacket work in France
The Spanish Navantia-Windar consortium has launched the production of foundation components for the Saint-Brieuc offshore wind farm in the Brest polder, France.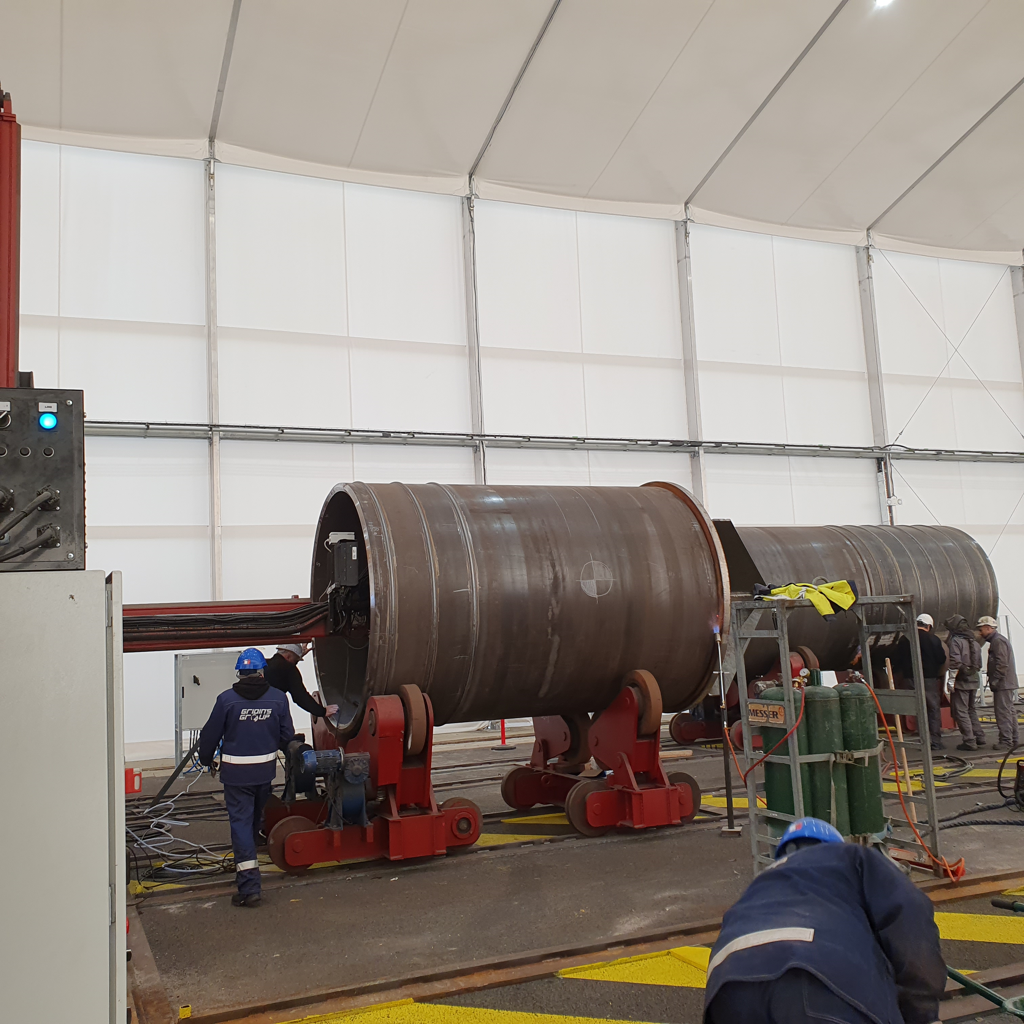 Navantia-Windar has presented the main achievements delivered in its construction program for 34 of the 62 foundations that will be built in France for the wind farm.
The technology chosen by Ailes Marines, a company fully owned by Iberdrola, is a three-legged jacket foundation.
Each unit consists of steel lattice structures that weigh up to 1,150 tons and are up to 75 metres tall, attached to the seafloor with pin piles.
The components constructed in the port of Brest are units for the upper and lower parts of these foundations – 714 nodes, 186 stabbings, 306 bracings, 102 upper legs, and 102 lower legs. In total, more than 35,000 tons of steel will be assembled in Navantia-Windar's workshops and in its Breton subcontractors' factories.
Seventeen companies have already started operating at Navantia-Windar's site located at the new EMR terminal in Brest.
Two new contracts were signed on 2 October with Sobec and Navtis, two local companies which will manufacture components for the jackets. The consortium is also currently engaged in negotiations with 20 other companies.
"The joint-venture has established a structured and realistic planning to guarantee the production of jackets as well as the logistics associated with the port of Brest," Jorge Filgueira, Director of Navantia Ria de Ferrol, said.
"Our goal is to strengthen the ties between our two regions, Brittany and Galicia, by creating a secured supply chain, which will allow us to pursue offshore wind farm projects together in France in the future."
The project will create 250 full-time jobs in France during the construction phase, the consortium said.
Javier Garcia Perez, president of Ailes Marines and Iberdrola's International Offshore Business Director, said: "After having announced the creation of the first 1,100 French jobs enlisted under this project, the start of the foundations' components construction in the workshop located in the port of Brest marks a new major step in the establishment of a field dedicated to offshore wind energy in France and in Brittany. We would like to thank Navantia-Windar and the region of Brittany for all the work they have accomplished. Specially in the difficult circumstances we all are."
The construction of the 496 MW Saint-Brieuc wind farm is scheduled to begin in 2021, with the commissioning planned for 2023.
The wind farm is located some 16 kilometres off the coast of Brittany and will feature 62 Siemens Gamesa 8 MW wind turbines.