Nexans kicks off Moray West export cables pull-in work
Nexans has started the pull-in of the first of two export cables at the 882 MW Moray West offshore wind farm off the coast of Scotland.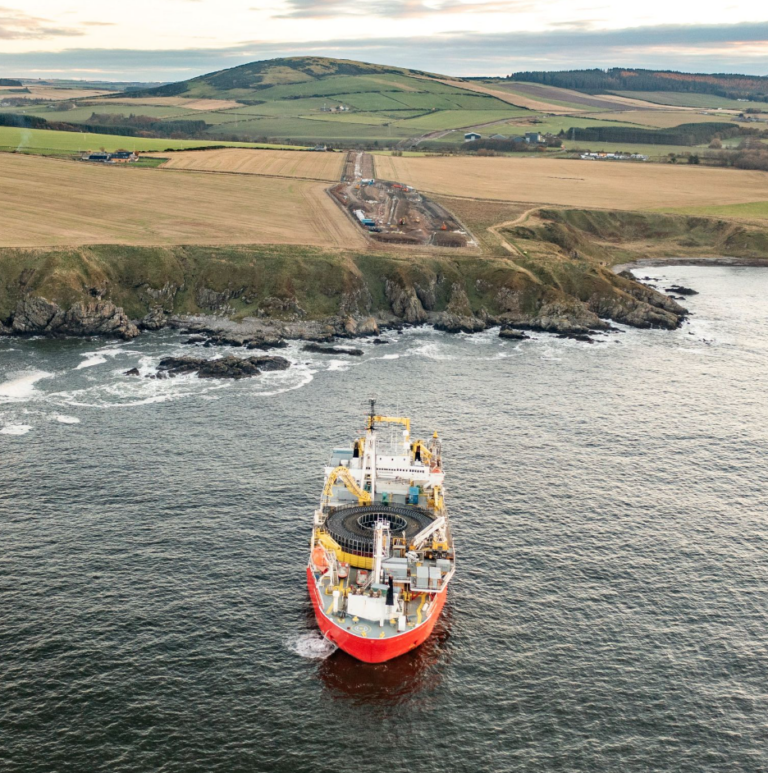 The offshore export cables were manufactured by Nexans at its factory in Halden under a contract signed with Ocean Winds in 2021.
The Nexans Skaggerak and the Nexans Aurora will lay and bury the two offshore cables.
Once complete, the cables will connect the onshore export cables at the landfall joint bay above the cliffs on the Aberdeenshire coast with the offshore substations, recently manufactured in the northeast of England.
The 882 MW Moray West offshore wind farm is located in the Moray Firth, approximately 22.5 kilometers from the Caithness coastline, where major offshore construction work started at the beginning of October with the installation of the first monopile foundation by Boskalis, which will also install the Offshore Transformer Modules (OTMs).
The offshore wind farm will comprise 60 Siemens Gamesa 14.7 MW wind turbines and is scheduled to be fully operational in 2025.
Once commissioned, the project is expected to meet the electricity requirements of about 650,000 households in Scotland for 25 years.
The Moray West offshore wind farm is being developed by Ocean Winds, a 50-50 joint venture between EDP Renewables and ENGIE, with a small minority stake held by UAB Ignitis Renewables.