Norsepower gets financial boost from Finnish Climate Fund to scale up production
The Finnish Climate Fund, a state-owned special assignment firm, will provide a capital loan of up to €10 million euros to rotor sail manufacturer Norsepower for increasing its production capacity.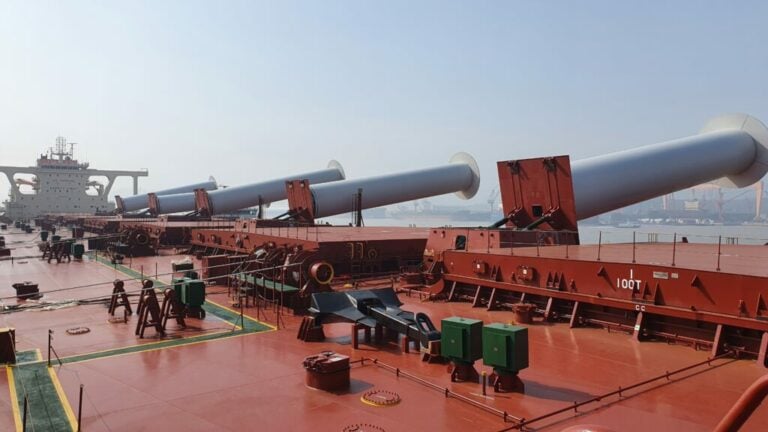 The capital loan comes with a market-based interest rate determined according to the risks of the project and in line with the EU's minimum interest rate requirements.
Norsepower is gathering over €25 million in funding for production facility investments to expand its rotor sail assembly line, as well as for operations and working capital.
In addition to the Climate Fund's investment, Norsepower has obtained a convertible bond loan of €5.6 million from its owners and Nefco. 
Financing from Nefco has been earmarked for investments in the Norsepower production hub in China. The company has established two fully-owned subsidiaries in Hong Kong and Yancheng to respond to the growing demand in Asia.
"The future of shipping is emission-free, and Norsepower's technology for cutting fuel costs and greenhouse gas emissions is a part of that future", says Norsepower's CEO, Tuomas Riski.
"Norsepower is an ambitious growth company and the Climate Fund's investment accelerates the scale-up of our production considerably from what we could have achieved with organic growth alone. The involvement of a state entity also lends us credibility abroad." 
"Norsepower's rotor sails are an immediately available solution, especially for emissions-intensive ocean tankers. The Climate Fund's investment accelerates the product's scale-up on the market and thus also its emissions reductions", says Paula Laine, CEO of the Finnish Climate Fund.  
Rotor sails
The wind propulsion systems developer produces rotor sails that can help reduce a vessel's fuel consumption by 5–25%, resulting in a significant reduction in shipping emissions.  
Approximately 2.5% of global annual greenhouse gas emissions are generated by shipping, and shipping accounts for 13.5% of the EU's total GHG emissions. Shipping emissions are projected to grow without further action, therefore, the development and scale-up of emissions-reducing solutions for the shipping sector is crucial. 
The Norsepower Rotor Sail™ is a modernised version of the Flettner rotor developed in Germany in the 1920s. The company's rotor sail technology utilises the pressure difference phenomenon, or Magnus effect, to generate propulsion.
The rotating surface of the sail creates negative pressure on one side and positive pressure on the other, creating lift that can be used to propel the ship forward. The sails also benefit from automation, data collection, and simulation that improve their efficiency. In addition, the company has developed a novel, patented production method and composite material that enable the production of lighter sails. 
A single sail is estimated to reduce annual emissions by 256–991 t CO2-eq depending on its size. The ten-year cumulative emissions-reduction potential of Norsepower's solution is approximately 6.4 Mt CO2-eq.
Since its establishment in 2012, Norsepower has generated more than €20 million of funding and has now installed rotor sails onboard seven vessels, including the latest installation on the MV Berlin.