Norsepower inks rotor sail retrofit deal with Socatra
Wind propulsion systems developer Norsepower Oy has signed a contract with French ship owner and operator Socatra for the retrofit installation of two rotor sails on the medium range tanker Alcyone.

The 50,000 dwt, 2022-built, French flag tanker, chartered by global energy company TotalEnergies, will be retrofitted with two 35m x 5m Norsepower rotor sails. The units are set to be delivered in December 2023 from Norsepower's new production hub in China, with installation scheduled for Q4 2023 or Q1 2024.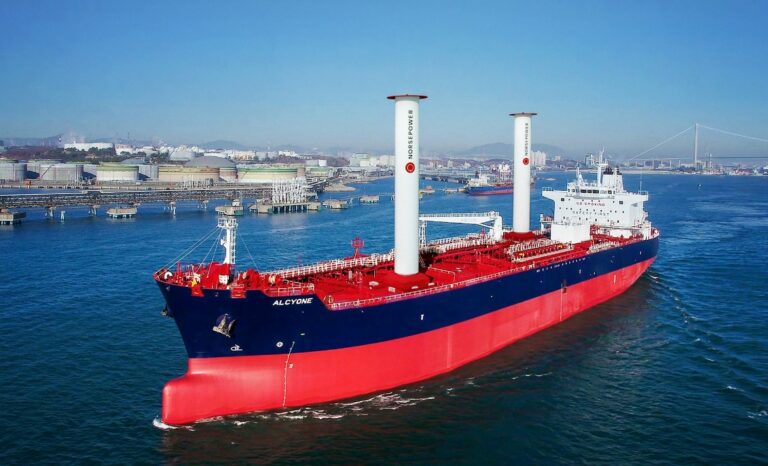 Norsepower said that the average fuel and carbon emission reductions will be 8% for the ship as it transits between South Korea and French Polynesia, with the potential for further savings using voyage optimisation reaching up to 2,000 tons of CO2 per annum.
According to Tuomas Riski, CEO of Norsepower, Socatra is the company's first French client.
Family-owned French ship-owner has a fleet of 12 eco tankers, and it is a major player in the oil storage business with facilities based in strategic locations across Western France.
"The Norsepower Rotor SailTM is particularly well-suited to tankers, with a strong track record of proven performance. This is why we are confident that we can achieve at least 8% fuel consumption saving, based on existing data and projections, ensuring Socatra lead the way for more planet-positive operations for others in the oil industry," he said.
"As the oil industry is moving towards a low-carbon future, it is everyone's responsibility to put forward tangible and economically viable solutions. We are pleased to be working with Norsepower to accelerate this transition and minimise our environmental footprint," Laurent Bozzoni, Socatra CEO, added.
"The Norsepower Rotor SailTM is widely recognised as a proven solution for sea-going vessels, and we believe that our MR tanker Alcyone will benefit from significant efficiency gains and help us reduce our CO2 emissions."
Commenting on the project, Jérome Cousin, Senior Vice President of Shipping at TotalEnergies, said the installation contributes to TotalEnergies' Net Zero ambition, noting that the success of this project could pave the way for a broader adoption of wind-assisted propulsion for TotalEnergies' fleet.
Since its establishment in 2012, Norsepower has generated more than €20 million of funding and has now installed rotor sails onboard seven vessels, including the latest installation on the MV Berlin.