NYK's new coal carrier with autonomous navigation system delivered
Japanese shipping company NYK Line has welcomed its coastal coal carrier Shiranami equipped with an autonomous navigation system.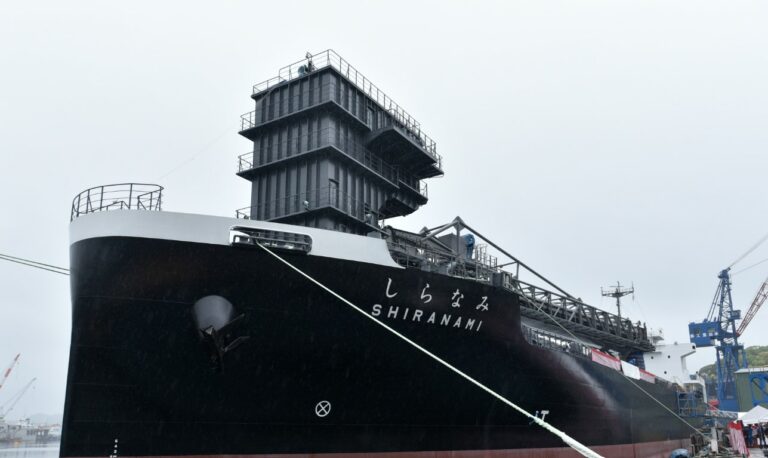 As informed, the vessel was delivered at the Saiki Shipyard of Honda Heavy Industries Co. on 28 April.
The coal carrier is the sister ship of the domestic coastal coal carrier Ushio, which was delivered in July 2022.
As part of the 2021 Support Project for R&D in Promoting Aggregation and Cooperation in the Maritime Industry, which is being implemented by the Ministry of Land, Infrastructure, Transport and Tourism (MLIT), new systems for the navigation and engine systems respectively were installed on this vessel on a trial basis, with the aim of realizing crewed autonomous operation of ships.
MLIT's project started this year to support technology developments for strengthening the technological capabilities of the Japanese maritime industry.
The project aims to facilitate shipyards and maritime equipment manufacturers in their coming together for work on next-generation ship technologies, to foster Japanese system integrators, to make the industry's structural shift, and to further strengthen the technological capabilities.
A navigation duty support function has been introduced to improve the reliability of the information on surrounding vessel traffic by integrating visual information from cameras and various sensors. According to the company, this is then used to formulate a navigation avoidance plan.
In the future, demonstration tests will be carried out with the aim of further improving the safety of crewed autonomous navigation based on the results of these tests and Ushio's operational data.
The engine system uses the ship's engine shore-based management system and simulation technology. In addition to detecting engine anomalies, the system enables to estimation of the cause of anomalies, thereby contributing to safe operation and reducing the workload of the crew.
Like the first vessel Ushio, the 127-meter long ship will be operated by the NYK affiliated company Asia Pacific Marine Corporation based on a transportation contract between JERA and NYK.
The vessel will serve as secondary transportation of overseas-delivered coal from a relay station within Tokyo Bay to the Yokosuka Thermal Power Station. The ship is designed to be environment-friendly and includes a hatch cover that can be kept closed during discharging operation as a dust-prevention measure.