Ocean energy public financing must create 'pull' for investors, new IRENA-OEE report says
A new report co-authored by the International Renewable Energy Agency (IRENA) and Ocean Energy Europe (OEE) has provided a roadmap to decision makers on the various financing mechanisms for ocean energy and how they can be scaled up to secure investments for the sector.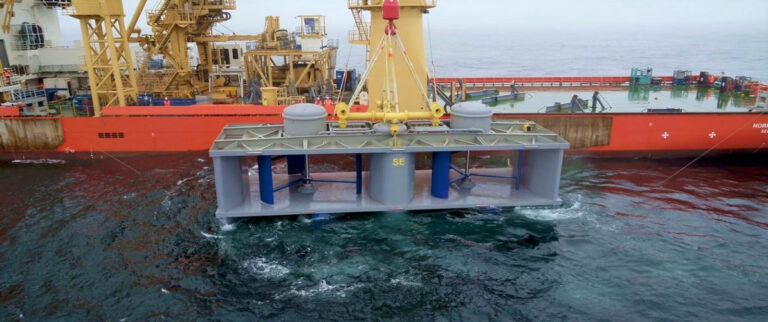 According to the report, public financing of ocean energy must be designed to create a 'pull' for private investment in a global market that could reach 350GW by 2050.
By making sure funding instruments are adapted to meet the sector's needs, governments around the world can leverage private financing, speed up technological development and drive down costs.
As many ocean energy developers prepare for commercialization, revenue support that provides a fixed electricity price over the longer-term, is the best tool to give investors market visibility and secure the returns they expect, the report states.
For technologies at earlier stages, a different approach is needed. Pre-commercial demonstration projects benefit from 'blended' financing models, where public funding leverages private money, whilst for prototypes, R&D grants are still the most effective mechanism. 
A fit-for-purpose financial framework must be complemented by a supportive policy and regulatory environment, according to the report. Among the recommended policy actions, the report highlights national deployment targets as being hugely important in giving clear long-term signals to investors.
Ocean energy is one of the technologies that must be scaled up for the energy system to reach full decarbonization and achieve energy security. The report estimates that ocean energy can create 680,000 direct jobs globally by 2050 and provide clean, local and predictable electricity to communities worldwide. 
Rémi Gruet, CEO of OEE, said: "Getting financing mix right is crucial for the success of ocean energy. Putting effective public funding in place is important twice over – firstly as a direct means of getting projects in the water, but also in sending the right signals to encourage private investors.  We are delighted to collaborate once more with IRENA to make sure decision-makers are presented with the best possible recommendations to make this happen."
Roland Roesch, acting director of the Innovation and Technology Center at IRENA, added: "Ocean energy technologies have the potential to significantly contribute to a just and sustainable energy transition in countries with coastal areas and island territories, while fostering a global blue economy. According to IRENA, to meet a 1.5 C Paris Agreement scenario, we will need more than 70GW and 350GW by 2030 and 2050, respectively. 
Roesch noted that the lack of market awareness on these innovations is a key barrier that is preventing this potential from being unleashed.
"This brief prepared under the IRENA Collaborative Framework on Ocean Energy & Offshore Renewables, with support from IRENA and OEE provides a roadmap to decision makers on the various financing mechanisms across the ocean energy project lifecycle that can be scaled up to ensure tangible investments are made in this sector," Roesch concluded.
Subscribe and follow
Offshore Energy – Marine Energy LinkedIn