Ocean Infinity and Kraken Finalize Strategic Alliance
Ocean Infinity and Kraken Robotics have finalized the Memorandum of Understanding (MoU) regarding the strategic alliance for maritime robotics technology, products, and services.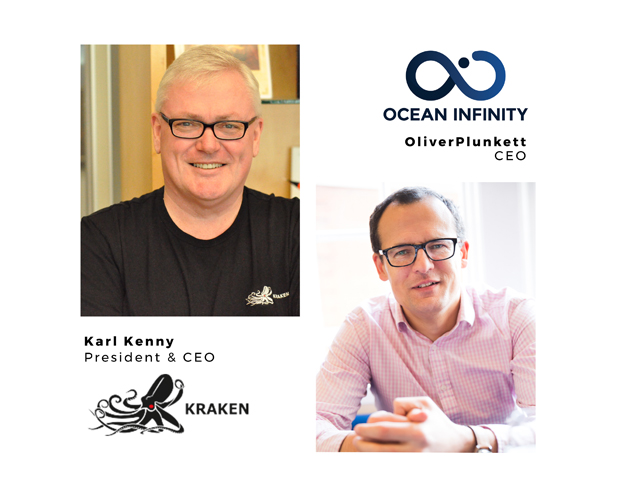 The MoU establishes a collaborative arrangement, pursuant to which Kraken will become a strategic partner to Ocean Infinity. This may include the future supply of additional sensors, components, software, and systems as well as R&D and innovation support in areas such as data analytics and machine learning.
Oliver Plunkett, CEO of Ocean Infinity said: "Great to be expanding our relationship with Kraken. We're very excited to establish a presence in Canada and continue to work with clients in the region."
As part of the strategic alliance, Ocean Infinity is planning to deploy deep sea capable survey assets to the east coast of Canada this fall.  These assets will consist of a support ship, two 6000m rated AUVs equipped with Kraken's AquaPix SAS sonar technology and two 6000m rated work class ROVs that will be fitted with Kraken's SeaVision 3D underwater laser imaging system.
While in the region Kraken plans to organize a variety of deep sea survey campaigns in various market sectors including oil and gas, hydrography, ocean research, fisheries, and defense.
Ocean Infinity will have office space with Kraken at the newly opened Center for Ocean Ventures & Entrepreneurship (COVE) in Dartmouth, Nova Scotia.
In addition, Kraken and Ocean Infinity will host workshops in Halifax and St. John's in July for members of the Ocean Supercluster to provide an overview of its seabed mapping technology that will be available in Atlantic Canada for 6 weeks starting in September 2018.