Oil Leaks from Grounded Car Carrier off Sweden
An unknown amount of oil has spilled from the damaged car carrier Makassar Highway, which has been stuck off the coast of Loftahammar, Sweden since last week.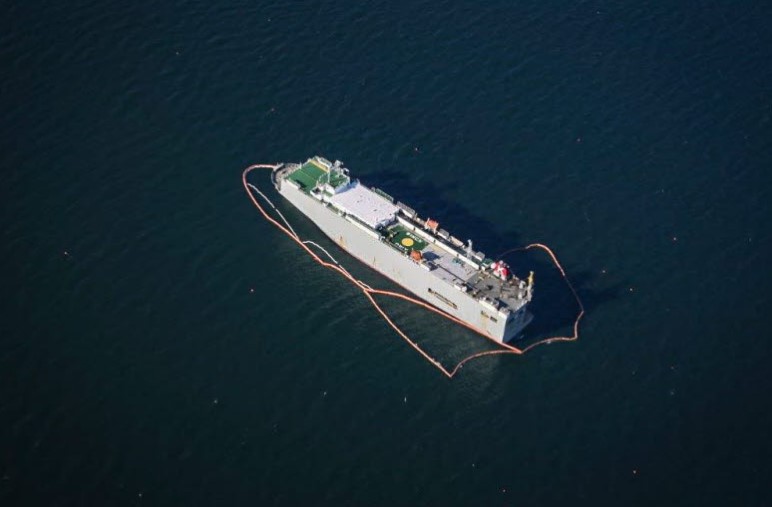 The Swedish Coast Guard said that the spill was caused by the movement of the ship's hull from its grounding site, with the oil escaping the booms that had been put in place.
Despite intense efforts to curb the spill, a small amount of oil has reached the shore at Flatvarp, the coast guard said. Approximately, 7,000 litres of the released oil have so far have been collected by the coast guard vessels.
"We urge the public not to come into contact with the oil regardless of whether it is found in the water or on land," Roger Gebauer, head of the Coast Guard's salvage team, said.
The coast guard is also conducting an areal mapping of the spilled oil to determine the scope of the spill and prevent its further spreading.
According to the latest update, the vessel, which has apparently detached from the ground, is floating freely and has been anchored.
Initial reports following the grounding on July 23, indicated that there were 333,000 liters of fuel oil, 38,000 liters of lubricant oil and 34,000 liters of diesel on board the ship.
A further investigation into the ship's damage and removal of fuel are under preparation.
Previous underwater inspection found extensive damage on the ship including ruptured ballast tanks on the fore part of the ship, a hole in the ship's bow thruster, as well as heavy metal damages on the ship's bulb and its port side.
The 2001-built Makassar Highway was on its way from Germany's port of Cuxhaven to Swedish Södertälje port when it got grounded in the Tjust archipelago. There were no injuries to the crew as a result of the incident. However, the ship's chief mate has been arrested, according to local media reports.
World Maritime News Staff; Image & Video Courtesy: Swedish Coast Guard