ONE CEO: Teething Problems Cost Us USD 400 Mn
The newly launched carrier Ocean Network Express (ONE) expects its teething problems to have a USD 400 million impact to the company's bottom line for the fiscal year of 2018.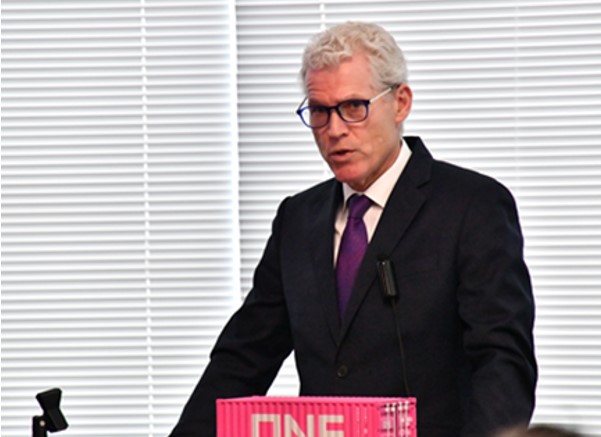 The teething problems, which mostly relate to booking reception and documentation operations, have had a major impact on the company's business performance since launching in April 2018 as a joint venture between K Line, MOL and NYK Line.
Namely, for the first half of the fiscal year 2018, covering the period from April to September 2018, ONE booked a loss of USD 311 million, much wider than USD 38 million previously forecast.
For the full fiscal year, the company anticipates to book a loss of USD 600 million, a major downgrade from the expected profit of USD 110 million.
Speaking at an investors meeting in Tokyo on November 28, ONE's CEO Jeremy Nixon, said that the root cause of the teething problems were unexpected regulatory delays that tightened the time window for the company to ready for launching.
"Back in July 2017, we were hoping to receive regulatory clearance which would then allow us  to be able to plan all the offices, set up all tax implications for 120 countries, get our IT data systems up and running etc. We would have been able to select our staff and bring them over from the legacy companies, making us largely ready so when we went live with the bookings from February 2018 we could be safe on the operation in April 2018," he said.
However, the regulatory framework was pushed considerably with the final clearance secured at the end of October, leaving ONE with only four months to prepare the organization to go live with bookings.
One of the key issues during the transition period were inadequate human resources and delays in uploading the required data.
"Because of the tighter regulatory window we didn't have as many resources as we needed initially to be able to set up all our IT systems and get everything working perfectly. We didn't have an IT problem, we had a resource issue and data load-up issue," Nixon pointed out.
The issue was fixed as the company entered into the second quarter of its business operation.
Nixon added that the teething problems were behind the company and that opportunities lost due to the said issues in the first half of the year would be recovered by fiscal year 2019.
Looking into 2019, the company expects an overall benign market with supply and demand growing at around 4 pct respectively. Furthermore, newbuilding deliveries are anticipated to be quite low further tightening the demand and supply balance.
ONE is in the process of renewing contracts with its customers for the fiscal year 2019 and is working on introducing a floating fuel recovery surcharge.
World Maritime News Staff