OPEC's Barkindo passes away at the age of 63
OPEC Secretary General, Mohammad Sanusi Barkindo, who was scheduled to retire from the role at the end of the month, has passed away suddenly at the age of 63.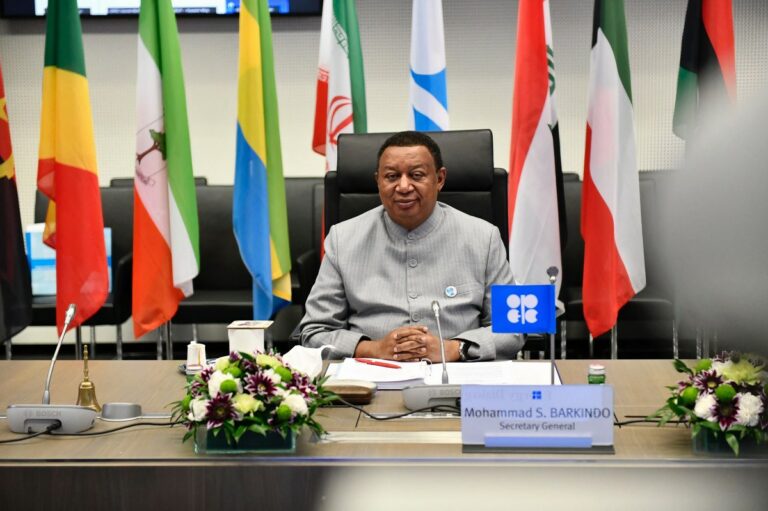 Barkindo was expected to turn over the reins to his successor Haitham Al-Ghais of Kuwait with effect from 1 August 2022, for a period of three years. However, OPEC informed on Wednesday that Barkindo died in Nigeria, describing his passing as a "profound loss to the entire OPEC family, the oil industry and the international community."
Al-Ghais, OPEC's incoming Secretary General, commented: "Barkindo has led the organisation during extremely turbulent times for the global oil market, and his remarkable role and valuable contributions, along with our organisation's long history of dialogue and cooperation, put us in a strong position to continue supporting stability and balance in the global oil market."
In a separate statement, the African Energy Chamber (AEC) confirmed Barkindo's passing, explaining that he had dedicated his career, spanning four decades, to growing the Nigerian, African, and global oil and gas sectors.
Burkindo's journey with the Organisation of Petroleum Exporting Countries (OPEC) started in 1986 when he served as Nigeria's delegation to the organisation and his role in the organisation grew as he took on other positions including acting OPEC Secretary General in 2006, representing Nigeria on OPEC's Board of Governors from 2009 to 2010. He was appointed as Secretary General in 2016 and re-appointed for a further three years in 2019.
Prior to joining OPEC, Barkindo served as an advisor to former Minister of Petroleum Resources and OPEC Secretary General, Dr Rilwanu Lukman KBE. In addition, Barkindo led Nigeria's technical delegation to the UN climate change negotiations since 1991, served as chair of the Group of 77 and China at the United Nations Framework Convention on Climate Change, and was elected to serve three terms as Vice President of the Conference of the Parties – COP13, COP14 and COP15.
Commenting on Barkindo's death, NJ Ayuk, Executive Chairman of the AEC, remarked: "H.E. Barkindo was our leader, our role model and our friend. The AEC is devastated at the news of his passing. In Africa, he will always be remembered as a patriot, an instrumental figure who fought for the continent's right to develop our oil and gas.
"H.E. Barkindo lived a life of loyalty, friendship and perseverance. He will be remembered as the man who united producers, helped create OPEC+, fought for alleviating energy poverty and strengthened Africa's position as a global energy supplier. He will be greatly missed."
When it comes to Barkindo's achievements during his tenure as OPEC's Secretary General, he oversaw some of the "most turbulent periods in the history" of the organisation. One of the first hallmarks of his tenure in this role is the creation of the OPEC+ coalition, which came a few months after his appointment as head of the organisation. This established partnerships with non-member countries including Russia.
After his reappointment, Barkindo led the organisation through one of the world's biggest crises caused by the COVID-19 pandemic, thus, his second term as Secretary General saw him navigate through production cuts, global oil price fluctuations and geopolitical tensions that brought significant impacts to producing nations worldwide.
Barkindo was driven by several central themes throughout his career, says OPEC, adding that this includes "an infectious passion for the petroleum industry; an unwavering belief in oil's poverty eradicating potential; a steadfast commitment to sustainable development; the importance of dialogue and multilateralism; and, most fundamentally of all, treating everyone with respect and kindness."
OPEC further adds that Barkindo elevated the organisation's position and role as an "active and responsible" partner in the oil industry and international community through both his deeds and words, therefore, his "dedication and leadership will inspire OPEC for many years and decades to come."