Oscilla kicks off crowdfunding campaign
The Seattle-based company Oscilla Power has launched a crowdfunding campaign on MicroVentures.
Specifically, through this campaign, Oscilla is looking to raise up to $1 million.
Oscilla Power's flagship product is the Triton wave energy converter.
The device consists of a large surface float connected by three tendons to a submerged ring-shaped reaction structure.
As surface waves move the float, it reacts against the ring-shaped structure, causing rotation of drivetrains located inside the float.
The Triton uses three drivetrains, one per tendon, to generate power and also deliver it to the power grid through a submarine cable.
For the purpose of utility-scale energy production, Oscilla Power envisions connecting multiple Triton devices in arrays to produce large amounts of grid-scale power.
The company is designing various-sized Tritons that have differing energy capabilities (i.e. 1MW versus 1kW) for specific scale use cases.
The community-scale deployment Triton-C at the Kaneohe Marine Corps in Hawaii is Oscilla Power's largest project to date.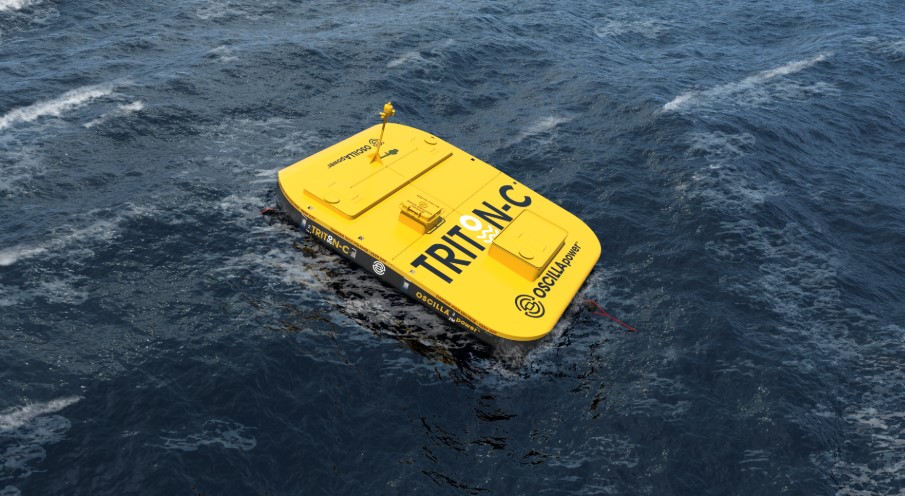 The Triton-C is a 100kW community-scale wave energy system for remote communities and facilities.
All detailed engineering has been completed, and the wave energy converter float and drivetrain are currently in the construction phase.
The company anticipates full system deployment in Q4 2020, or early next year.
It also expects to test the Triton-C for a year in Hawaii before it will generate power commercially.
Finally, Oscilla Power hopes that this deployment will serve as a proof of concept product for other small communities along the U.S. Pacific Coast, Alaska, Hawaii, and remote islands.
This project gets support from the U.S. Department of Energy.