Pacific Drilling to appeal $320 million arbitration award to Samsung Heavy
Offshore drilling contractor Pacific Drilling has filed an application with the High Court in London for leave to appeal the decision issued in arbitration proceedings with Samsung Heavy Industries (SHI) regarding the construction contract of the Pacific Zonda drillship.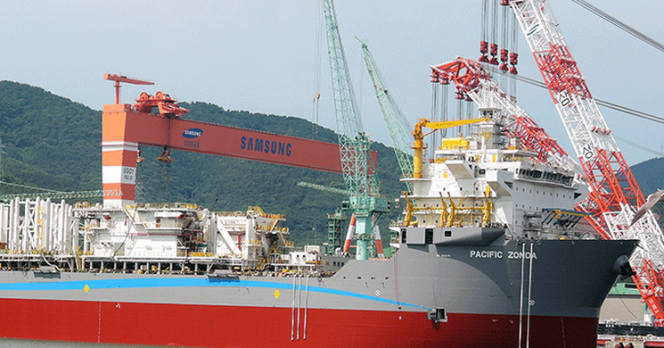 Back in January, an arbitration tribunal in London awarded SHI approximately $320 million with respect to its claims against two Pacific Drilling subsidiaries – Pacific Drilling VIII Limited (PDVIII) and Pacific Drilling Services, Inc. (PDSI) – related to the contract for the construction and sale of the Pacific Zonda drillship.
The award did not include approximately $100 million in interest and costs sought by SHI, on which the tribunal reserved making a decision at a later date.
On Tuesday, Pacific Drilling said that it had filed an application to appeal to the High Court in London regarding the Pacific Zonda decision.
The company added that, under the rules governing arbitration procedures, PDVIII and PDSI have no automatic right to appeal, and the grounds on which the London High Court can allow the appeal are limited.
"There can be no assurance that an appeal will be granted or, if granted, that the appeal process will be successful," Pacific Drilling said.
As previously stated by the company, in connection with Pacific's now concluded Chapter 11 proceedings, PDVIII and PDSI filed a separate plan of reorganization under Chapter 11 of the U.S. Bankruptcy Code in the U.S. Bankruptcy Court for the Southern District of New York, which was confirmed on January 30, 2019.
Once the tribunal's award becomes final and unappealable, the company expects the Zonda debtors, which have approximately $4.5 million in cash and no other material assets, to be liquidated in accordance with the terms of the Zonda plan.
It is worth reminding that Pacific Drilling ordered the Pacific Zonda drillship from Samsung in 2013. However, in October 2015, Pacific canceled the order, stating that the builder failed to deliver the vessel in time. Samsung then took the case to the tribunal.
Related news
List of related news articles