Pemex: No environmental damage caused by 'Eye of fire'
Days after a fire on the ocean surface dubbed the 'Eye of fire' in the Gulf of Mexico was put out, Mexico's national oil company Pemex stated that environmental damage was avoided due to quick action by its workers.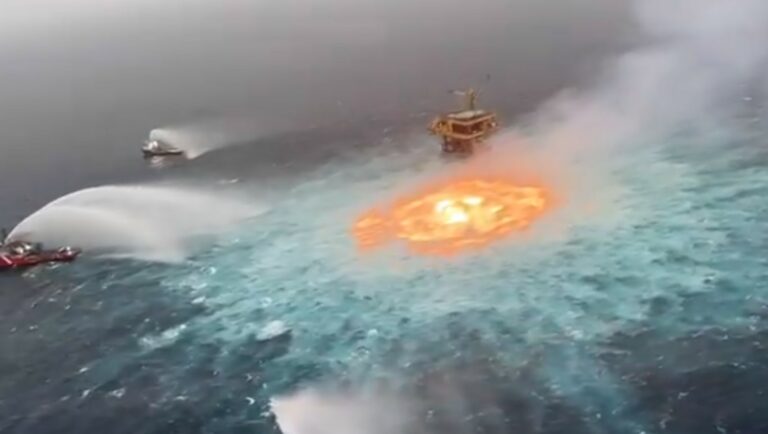 The fire broke out on 2 July and resembled molten lava and the massive flames raged very close to Pemex's largest oil crude producer – the Ku Maloob Zaap platform.
Ku Maloob Zaap is located just up from the southern rim of the Gulf of Mexico and is Pemex's biggest crude oil producer, accounting for more than 40 per cent of its nearly 1.7 million barrels of daily output.
No injuries were caused by the fire and production from the project was not affected. The gas leak ignited around 5:15 a.m. local time. It was completely extinguished by 10:30 a.m.
Pemex said on Monday that the cause of the fire was an electrical storm with intense rain in the area around the platform which caused the necessary pneumatic pump gas turbocompression equipment to go out of operation.
At the same time, a leak was detected in the 12-inch pneumatic pumping pipeline that feeds the wells of the platform. The gas outside the pipe migrated from the seabed to the surface and due to the electric shocks and heavy rains, the fire broke out on the sea surface.
The fire was completely extinguished by closing the submarine valve and injecting nitrogen into the gas pipeline.
"There was no oil spill and immediate actions to control the fire that occurred on the surface of the sea avoided environmental damage", Pemex said in a statement,
The company added that it started with the definitive repair program for the affected pneumatic pumping line and is carrying out the analysis to identify the root cause of the gas leak in the pipeline.
Following Pemex's statement, Greenpeace and 23 other environmentalist groups wrote a list of demands to the President of Mexico Andrés Manuel López Obrador.
Among others, the 24 organisations requested the ban of fracking, creating alternatives for fossil fuels, cessation of deepwater extraction, cessation of oil expansion, an increase of participation of renewables, meet Paris Agreement targets, more investments in the energy transition, a detailed study of the impacts derived from the 'Eye of fire' and prepare a plan to repair the damage, as well as investigations and punishments for those responsible for the fire.