Petrobras delays Parque das Baleias project to 2024
Brazilian oil major Petrobras has postponed the Parque das Baleias integrated project in the Campos basin by about one year.
Petrobras said last Friday that it also cancelled the FPSO charter bidding, granting the start of a new bidding process.
The operator, citing the economic context of COVID-19 in its decision, now expects first oil from the project in 2024.
It is worth noting that the scope of the project will be preserved. That foresees the relocation of wells between platforms in operation in the year 2022.
Parque das Baleias, also known as the Whale Park, is a cluster of seven deep-water oil and gas fields in the northern Campos Basin, offshore Espírito Santo, Brazil.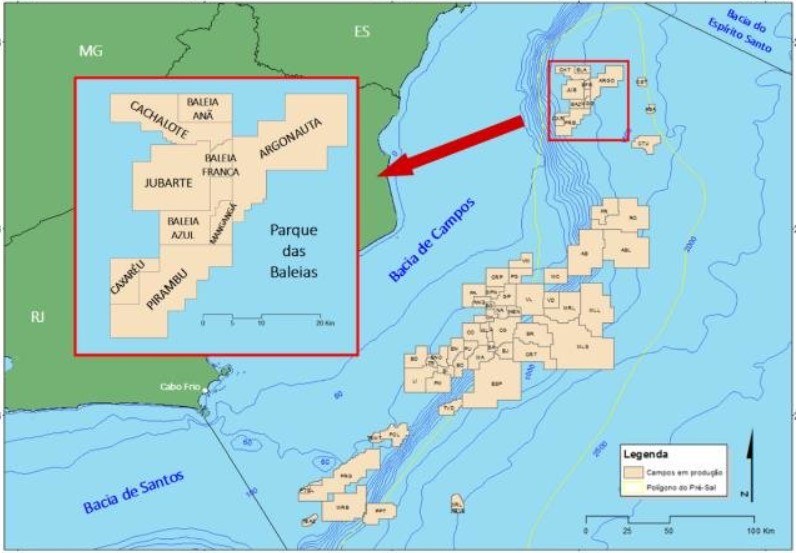 Owned and operated by state-controlled Petrobras, the Parque das Baleias area includes the Jubarte, Baleia Azul, Baleia Franca, Baleia Anã, Cachalote, Caxaréu, and the Pirambú fields that have both pre-salt and post-salt reserves. The area is estimated to hold more than two billion barrels of oil equivalent (boe) recoverable reserves.
The current aggregate production from the Parque das Baleias cluster is estimated to be 222,000 barrels of oil and six million cubic metres (mcm) of gas per day.
The offshore field complex with a total of four floating, production, storage and offloading (FPSO) units, reached the cumulative production of one billion barrel of oil equivalent (boe) in May 2020. The four FPSOs are connected to 44 producing wells and 21 injectors.
To remind, in 2019, Petrobras invited tenders as part of a plan to install a fifth FPSO to be connected to 19 wells.
The Agencia Nacional do Petroleo (ANP) and Petrobras signed a unification agreement to create the New Jubarte field comprising the Baleia Azul, Baleia Franca, and the Jubarte fields as well as portions of the Cachalote, Caxaréu, Mangangá, and Pirambu fields in April 2020.
ANP also decided to extend the production phase of the New Jubarte Field by an additional 27 years until 2056, as part of the agreement.