Petrobras starts binding phase for two Campos Basin fields sale
Brazilian oil major Petrobras has begun the binding phase related to the sale of 50% of its non-operated working interest in Tartaruga Verde field and Module III of Espadarte field, both located in the Campos Basin off Brazil. 
Petrobras said on Monday that process letters were issued to qualified interested parties with detailed instructions about the divestment process, in addition to guidelines to conduct due diligence and submit binding proposals.
"The disclosure to the market herein is in compliance with Petrobras' divestment methodology and aligned with the provisions of the special procedure for the sale of exploration, development, and production of oil, natural gas and other fluid hydrocarbons rights," Petrobras added.
It is worth reminding that the company started a non-binding phase for the sale of the Bauna, Tartaruga Verde (Green Turtle), and Module III of Espadarte field in June this year.
Petrobras has a 100% working interest in both fields and will remain the operator if the sale of the stake is successful.
Worth mentioning, Petrobras kicked off oil production from Tartaruga Verde field on June 22, 2018.
It consists of two reservoirs, Tartaruga Verde, where Petrobras holds 100% interest, and Tartaruga Mestiça, a joint reservoir between the Union, represented by Pre-Sal Petróleo SA, with a 30.65% interest, and Petrobras with 69.35%. All of the field production will be offloaded by FPSO Cidade de Campos dos Goytacazes.
Moored approximately 125 kilometers from Macaé, State of Rio de Janeiro in the southeast coast of Brazil, in water depths of 765 meters, the FPSO is capable of processing 150,000 barrels of crude oil per day, 176 million standard cubic feet of gas compression per day and has a storage capacity of 1,600,000 barrels of crude oil.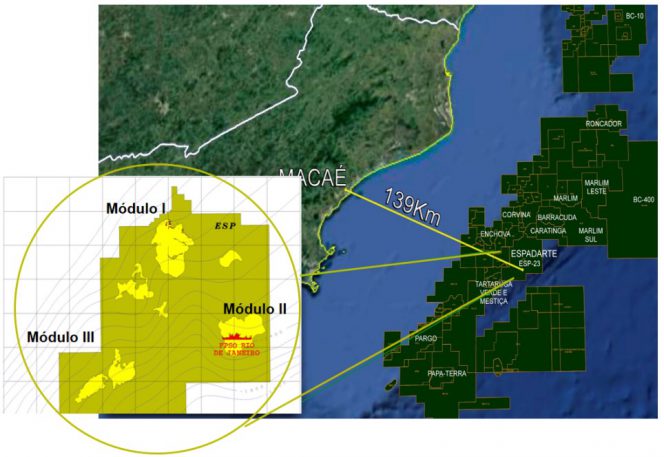 Related news
List of related news articles