PETRONAS, MISC, and MOL forge pact on LCO2 carrier development
Malaysia's state-owned energy giant PETRONAS, through its wholly-owned subsidiary PETRONAS CCS Ventures, has teamed up with compatriot shipowner MISC Berhad and Japanese shipping major Mitsui O.S.K Lines (MOL) on the development and commercialization of Liquefied Carbon Dioxide (LCO2) carriers.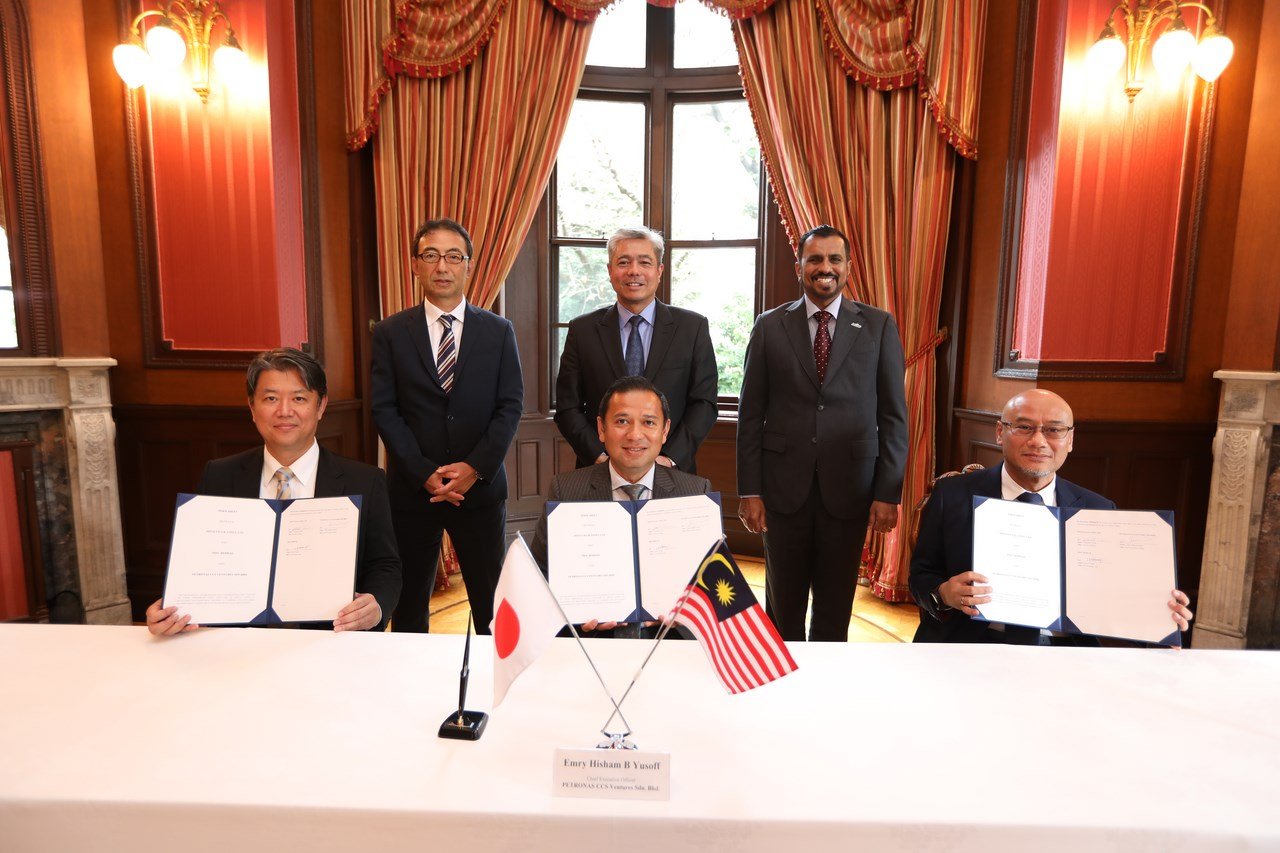 The three industry heavyweights signed a term sheet for the potential incorporation of a joint venture entity to invest in developing and monetizing LCO2 carriers intended for carbon capture and storage (CCS) projects in Malaysia. The trio has also agreed in principle on the key commercial terms to allow progress to the next stage.
The latest agreement builds on the February 2022 Memorandum of Understanding (MOU) signed with MOL and the four Approval in Principle (AiPs) for the conceptual design of the LCO2 carriers in June 2023.
Since signing the MoU, MOL and PETRONAS have been studying optimal methods of ocean transport for LCO2 within the Asia Pacific and Oceania region. With the assistance of SDARI, the joint project completed the concept study for LCO2 carriers and FSO units.
"LCO2 carriers are integral to the CCS value chain to connect customers to carbon capture sites and storage locations. Our partnership with MOL and MISC is a powerful synergy of multiple expertise, abundant resources, and shared values. By combining our individual strengths, we will be able to facilitate the development and subsequently materialise the transportation of liquefied CO2 in a safe and sustainable manner," PETRONAS Executive Vice President and Chief Executive Officer of Upstream, Datuk Adif Zulkifli, said.

"We are pleased to partner with PETRONAS and MOL in this strategic venture. It's a perfect fit with our advocacy for a just transition, where responsible practices take center stage in managing societal emissions. As a future-focused shipowner, MISC is well-equipped to deliver the technical expertise required for LCO₂ shipping, a crucial link in the carbon capture and storage value chain," MISC President/Group Chief Executive Officer, Captain Rajalingam Subramaniam, said.

"Again, our call to the maritime and other hard-to-abate industries is to collaborate for the betterment of everyone through viable solutions that are available."
This partnership further reinforces PETRONAS' commitment in establishing Malaysia's potential as a prominent regional hub for CCS.
The company is already working on the development of the Kasawari CCS project. Petronas took the final investment decision (FID) for the project at the end of 2022, followed by the award of the EPCIC contract to MMHE, a subsidiary of Malaysia Marine and Heavy Engineering Holdings Berhad (MHB).
The CCS project is scheduled to come online by the end of 2025 and will be part of the overall Kasawari gas development project.
This project is expected to pave the way forward for future decarbonisation plans for Petronas and Malaysia, supporting the firm's progress towards its net-zero carbon emission (NZCE) targets by 2050.
The Malaysian energy giant has been on a quest for collaboration in this field and has already scored cooperation deals with Shell and Vopak.
Earlier this year, Malaysia's Petronas and oil major ExxonMobil Exploration and Production Malaysia (ExxonMobil) signed two agreements to jointly pursue CCS activation projects in Malaysia.
Under the agreements, the parties will work on maturing technical scopes for the CCS value chain, evaluation of the identified fields for CO2 storage utilisation, development of the appropriate commercial framework, and establishment of advocacy plan support on regulations and policy development in enabling CCS projects.
Meanwhile, last year Petronas joined forces with six South Korean companies to study the feasibility of a full value chain related to CO2 capture, transport, and storage.
The six companies include one of the world's largest shipbuilders Samsung Heavy Industries (SHI), construction and project management firm Samsung Engineering Co., as well as energy majors SK Earthon, SK Energy, GS Energy Corporation, and chemical company Lotte Chemical Co.
Under the MoU, the companies will evaluate potential CO2 storage sites in Malaysia and explore other areas across the CCS value chain, including cross-border CO2 transportation.