Poland and Denmark partner up for energy transition with hydrogen and biomethane on the table
Polish natural gas transmission system operator (TSO) GAZ-SYSTEM and Danish TSO Energinet have signed a Memorandum of Cooperation to work together on accelerating energy transition and strengthening regional energy security in Europe.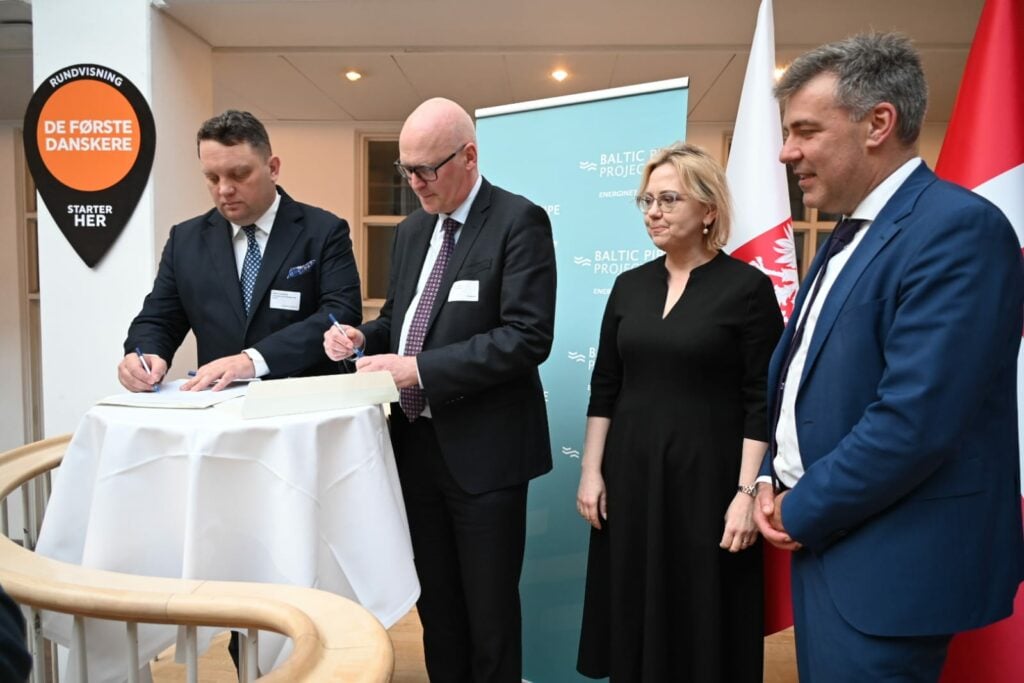 The agreement was signed on 26 April during the Baltic Pipe gala event in Denmark which was attended by Polish Minister for Climate and Environment Anna Moskwa and the Danish Minister for Climate, Energy and Utilities Lars Aagaard.
"Building on the positive experiences gained during the Baltic Pipe construction, Energinet and GAZ-SYSTEM are now focusing on accelerated decarbonisation through green gasses and enhancing regional gas supply security," said Thomas Egebo, Energinet's CEO.
GAZ-SYSTEM and Energinet plan to cooperate to ensure a secure and continuous supply of natural gas through the Baltic Pipe gas pipeline and development in new areas related to low and zero-carbon energy sources, including biomethane and hydrogen.
The two operators have undertaken to jointly promote the spare capacity of Baltic Pipe among the market participants in the Baltic Sea region and Central and Eastern Europe, including Ukraine, as well as pledged to work together to meet the EU climate objectives by developing and implementing national policies and strategies in this area.
To this aim, the companies will cooperate with international industry organizations and will establish specialist joint working groups in several R&D areas, including Baltic Pipe, biomethane and hydrogen, to implement the activities.
In addition, the parties have also agreed to collaborate on the sectoral priorities of the future Polish and Danish presidencies of the Council of the European Union in 2025.
"Together with Energinet, we have delivered Baltic Pipe, the project that is key for the energy security of Poland. It is our task as the national gas transmission operator to ensure the continuity of natural gas supply through the offshore pipeline but we are also looking forward – towards new energy sources," said Marcin Chludziński, President of GAZ-SYSTEM.
"In keeping with the objectives of the European Union's climate policy, we want to contribute to reducing carbon intensity of the European economy. The Memorandum enables both our companies to take coordinated steps to develop a legislative framework and implement technical solutions for the transmission of biomethane and hydrogen."
GAZ-SYSTEM and Energinet put the Baltic Pipe pipeline into operation last year. The project connects Norwegian gas pipelines in the North Sea with the Danish and Polish gas systems across Denmark and the Baltic Sea.
The agreement follows a joint political declaration from August 2022 in which the Baltic Sea countries Poland, Sweden, Finland, Germany, Estonia, Latvia, Lithuania and Denmark agreed to cooperate more closely on energy supply and the development of green energy.