Providence finds potential working petroleum system after Newgrange survey
Following the completion of the Newgrange prospect seismic shoot, Irish oil & gas company Providence Resources has found evidence of a potential working petroleum system in the area.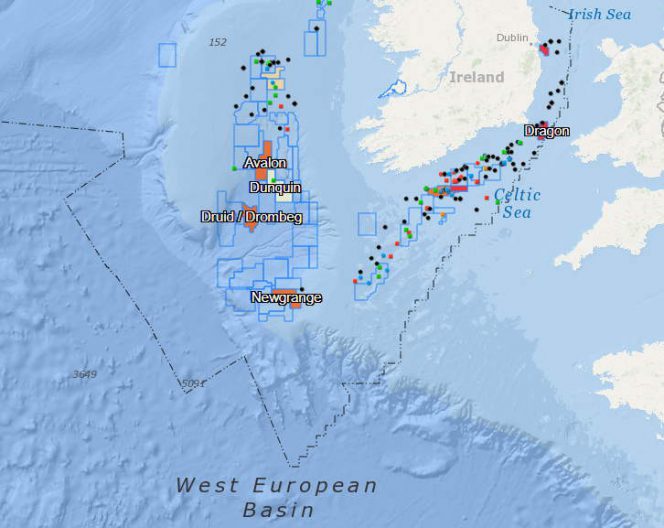 The license is operated by Providence Resources, on behalf of its partner Sosina Exploration Limited (20%). FEL 6/14 is situated in 1,000 meters' water depth some 260 kilometers off the south-west coast of Ireland.
Providence said on Wednesday that Gardline's M/V Kommandor site survey vessel began demobilization following the acquisition of data suitable for input to an application for the permitting of a Newgrange exploration well.
According to the company, initial analysis of the seabed data over the proposed Newgrange well location confirmed the presence of more than 100 seabed pockmark features.
Seabed pockmarks are depressions formed in the seabed caused by the natural eruption of low density fluids from the underlying sediments onto the seafloor. Pockmarks often form naturally due to oil or gas leaking from underlying hydrocarbon accumulations and have for instance been noted over the Connemara oil discovery in the North Porcupine Basin.
"There are a number of reasons why seabed pockmark features are present and these seabed pockmark features are interpreted by the Newgrange Partners to be the result of fluid seepage from the underlying geology," the company said.
Providence also noted that discussions in relation to a potential farm-out of equity in the Newgrange license to third parties are continuing.
John O'Sullivan, technical director of Providence, said: "We are pleased to confirm the safe and successful completion of Newgrange site survey operations. The initial results support the potential presence of a working petroleum system in the Newgrange prospect area.
"We are especially pleased with the results as we had hoped to see some evidence of fluid seepage given the shallow nature of the Newgrange prospect. We are also continuing to liaise with interested potential co-venture partners and these new data will no doubt provide further momentum to those discussions."
To remind, Providence hired Gardline in May to carry out a high-resolution 2D reflection seismic survey over the crest of the Newgrange prospect.
Mobilization of Gardline's Kommandor vessel to conduct a new seismic survey over the prospect started ahead of schedule in mid-June.