Repair yard shortage puts maritime energy transition at risk
A shortage of repair yards with experience in conversions may hinder the take up of alternative fuel technology by the existing fleet, according to the findings from LR's new Engine Retrofit Report.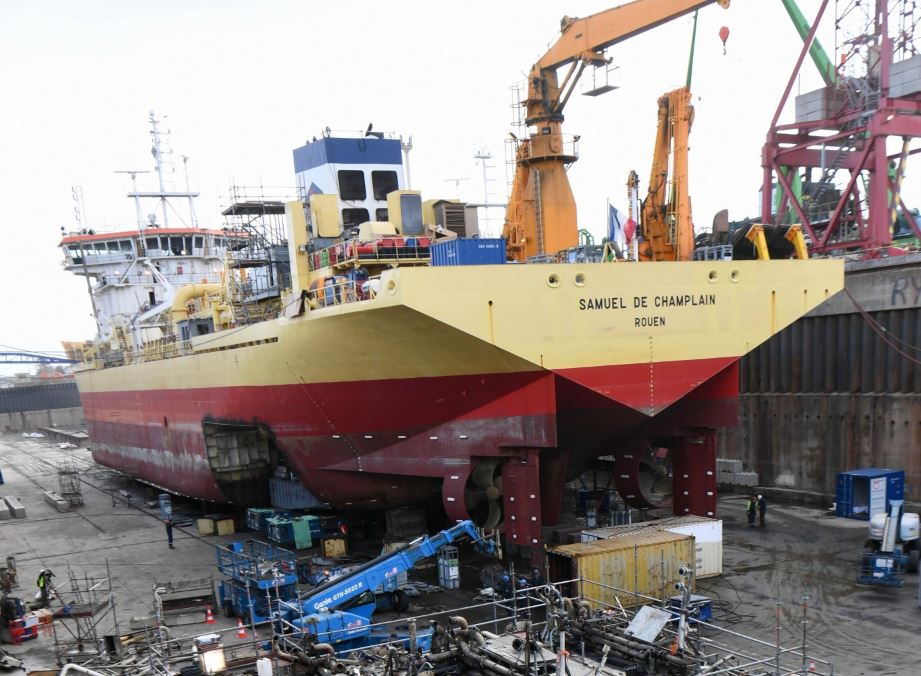 The report has identified that retrofitting a significant number of the 9,000 and 12,900 large merchant vessels estimated to be part of the global fleet in 2030, could rapidly accelerate the maritime energy transition. However, it warns that these ambitions could be jeopardized by the limited number of repair yards currently capable of performing such conversions.
Beyond this timeframe, it's anticipated that all new vessels will be built with net-zero or near-zero carbon fuel capability. However, the practicality of retrofitting older vessels (beyond ten years) and smaller vessels may remain a challenge. Even converting a fraction of this potential market will necessitate new capabilities and technologies from ship designers, shipyards, and operators.
"Decarbonising the existing fleet is crucial for reducing the maritime industry's greenhouse gas emissions. Without significant progress in this area, there could be as many as 20,000 commercial vessels relying on fossil fuels by 2050," Claudene Sharpe-Patel, Technology Director, Lloyd's Register, said.
"We must, therefore, focus industry efforts on addressing the issues that LR's Engine Retrofit Report raises such as yard capacity, conversion capability and system integration, helping stakeholders from the maritime value chain navigate the obstacles to installing future fuels technology on the existing global fleet."
Fleet readiness for zero-emission fuels is on the rise, with 225 ammonia-ready and 120 methanol-ready vessels in service or on order. While "fuel-ready" notations certify aspects of alternative fuel conversions, they don't encompass detailed designs, costs, and conversion plans. This leaves uncertainties regarding the actual costs and timelines required to make a vessel labeled as "ready" practically capable of operating on zero-carbon fuel.
To address these uncertainties, a proposed Zero Ready Framework aims to provide clarity over vessel readiness, enabling stakeholders to better plan retrofits effectively.
"By committing to only financing, building and ordering vessels that meet a clearly defined readiness level by specified dates, stakeholders can better manage the risks of the energy transition across existing fleets," the report said.
What is more, fuel conversion packages have yet to be deployed at scale and in many cases remain under development. The report looked at cases of methanol, which is already used as a ship fuel, and ammonia, which is emerging as a fuel candidate.
Methanol engine conversions are on the cusp of being introduced at wider scale following an outlier early adoption in 2015. At least two suppliers are ready to install engine retrofit packages imminently, with more in advanced stages of development.
Ammonia engine conversions are a more challenging and more distant prospect. Newbuild engine concepts have yet to be finalized and the safety issues around using ammonia as fuel, already expected to be challenging on vessels built for that purpose, will mean more complexity around retrofit packages and their installation.
While alternative fuel engine conversions have made progress, challenges remain, particularly in integrating wider fuel systems on existing vessels. These challenges include accommodating larger tank volumes, fuel preparation, piping, safety arrangements, and ensuring crew safety when handling toxic and flammable fuels.
The report highlights regulatory issues, including IMO requirements for using methanol as fuel and the absence of such requirements for ammonia. Approvals for ammonia-based fuels are risk-based, necessitating robust risk management processes in design appraisal. The report also touches on NOx certification requirements under MARPOL after a major conversion.
Namely, the regulations require a converted engine to be recertified for NOx emissions. If an identical certified engine does not exist, as will be the case for many early retrofits, recertification means testing at sea or testing a suitable engine at a testbed, which can be challenging.
Consideration for crew working with new fuels is paramount, including ergonomics, roles, and responsibilities, competency and training, resourcing, procedures and processes, occupational health, and managing process safety hazards.
Integrating alternative fuel systems on existing ships demands new skills from repair yards in naval architecture, electrical engineering, and fuel handling. Only a limited number of repair yards are currently capable of performing these conversions.
Techno-economic modeling suggests that using renewable methanol or ammonia today would increase fuel costs for vessels across segments, with the tipping point for cost competitiveness dependent on carbon pricing. Retrofit costs remain uncertain, significantly impacting the business case for owners and operators.
The report evaluates investment readiness across different vessel segments, indicating that while some sectors are close to adopting methanol fuel retrofits, the business case for retrofitting with ammonia remains hypothetical.