Report: Pertamina Source of Balikpapan Bay Oil Spill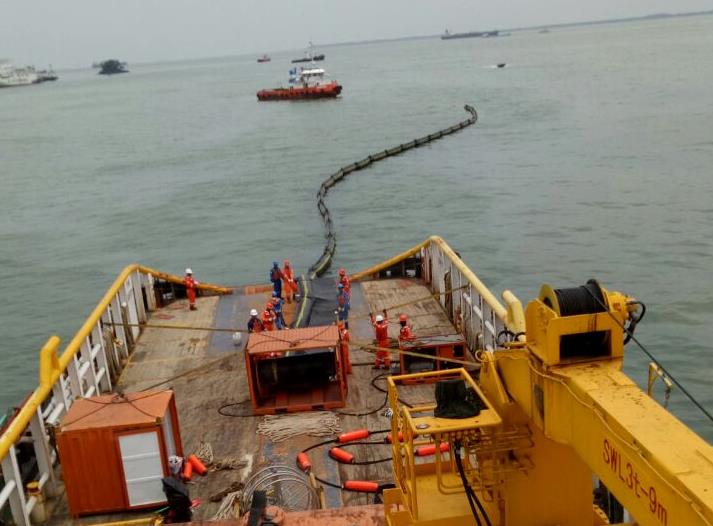 A burst undersea pipeline linking Pertamina's Lawe-lawe terminal to an oil refinery in Balikpapan has been identified as the source of the oil spill in the Balikpapan Bay, Indonesian oil and gas company confirmed in a press conference on Wednesday.
According to Pertamina Refinery Unit V general manager Togar MP, quoted by the Jakarta Post, once the leak was confirmed the pipeline was shut down immediately. As informed, the amount of spilled oil is still being assessed.
The spill was recorded on March 31 in the vicinity of the Semayang port's Jetty 2, following a fire that claimed the lives of up to four fishermen.
The fire was an eerie sight as a thick cloud of smoke was seen billowing from the site.
Pertamina in cooperation with Chevron Indonesia said it managed to extinguish the fire and prevent it from spreading. However, the company initially denied it was the source of the spill, referring to an analysis of oil samples taken from the affected waters which found that the spilled substance was not crude oil but marine fuel oil.
It is only after the tenth sample was taken, that the company determined that crude oil was in fact spilled.
Pertamina is yet to provide World Maritime News with a comment on the matter.
MV Ever Judger
On the same day, Panama-flagged bulker MV Ever Judger reported a fire while it was in Balikpapan waters. Its entire crew was evacuated, with one mariner being hospitalized due to burns sustained in the incident.
The ship was also included in an investigation into the oil spill and fuel oil samples were taken from the ship to compare them with those found in the bay.
The ship's crew, as well as local residents, were questioned as part of the probe, ABC News reported citing East Kalimantan provincial police chief Inspector General Priyo Widyanto.
The ship remains anchored in the bay.
The Indonesian Ministry of Transport has set up a coordination task force with PT. Pertamina and local agencies aimed at curbing the spreading of the spill.
It was also noted that one of the key concerns remain the safe loading of ships at the company's refinery, as well as berthing and sailing of the ships in the area.
The local population was urged to exercise caution and refrain from throwing any items in the waters that could cause a spark and ignite the waters again.
World Maritime News Staff; Image Courtesy: Indonesian Ministry of Transport