Rystad: OPEC+ must cut 2019 supply growth or wave goodbye to short term recovery
The OPEC + countries must cut 2019 supply growth by 1.5 million bpd if they want oil prices back above $70 next year, Rystad Energy, an energy consulting services and business intelligence data firm, said on Thursday.  
---
According to Rystad, US production at $50 WTI levels would remove only 0.4 million bpd of the looming 1.5 million bpd surplus in the balances that Rystad Energy forecasts for 2019 in a status quo scenario.
"We believe a cut announcement that effectively removes anything less than 1 million bpd of 2019 supply would be interpreted negatively by the market," says Bjornar Tonhaugen, head of oil market research at Rystad Energy.
He says the market is now at the mercy of OPEC and the 10 non-OPEC countries that have previously agreed to curb production.
"To surprise the market in a bullish fashion, we believe cuts approaching 2 million bpd would have to be announced. Should OPEC+ announce a 1.5 million bpd cut, we believe the market reaction would be neutral at first, but gradually pave the way for a recovery in oil prices above the $70 level for Brent in 2019," Tonhaugen adds.
At the 175th (Ordinary) OPEC Meeting that opens in Vienna today, OPEC+ producers face a recurring dilemma: US shale oil production is again growing too fast, just as it did in 2014. The reality is that back in May 2018, when the US announced re-imposing sanctions on Iran, OPEC+ agreed to increase production to compensate for the future supply losses from Iran (and Venezuela). The prevalent view in the market at the time was that US production growth would be constrained owing to take-away bottlenecks in the Permian Basin.
Rystad Energy argued at the time that US production would manage to continue growing robustly through 2018, as could be seen through its well-by-well data coverage. But its forecasts – while higher than those of OPEC, the EIA and the market in general – still underestimated the supply growth from the US.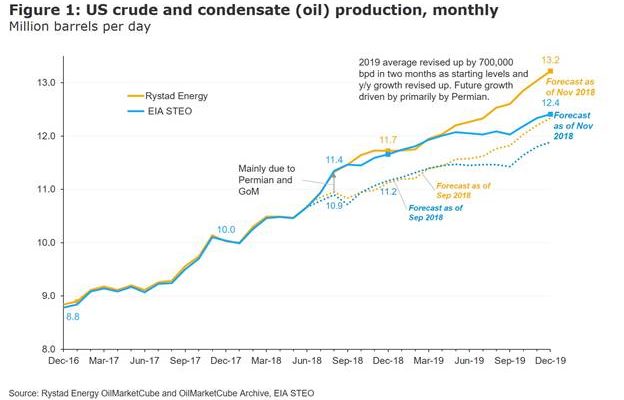 "Should OPEC+ decide this week not to cut production substantially, the market can probably wave goodbye to any hopes of short term recovery in prices from current levels, and more likely say hello to even lower levels for parts of next year. All eyes on Vienna," said Tonhaugen.
It is also worth mentioning that Qatar recently announced its withdrawal from the Organization of Petroleum Exporting Countries.
Qatar's withdrawal decision reflects its desire to focus its efforts on plans to develop and increase its natural gas production from 77 million tons per year to 110 million tons in the coming years.
According to OPEC data, Qatar was the eleventh biggest oil producer in the 15-member organization in 2017, producing around 600.000 barrels a day.
New set of challenges in 2019 
In an opening address to the 175th Meeting of the OPEC Conference on Thursday, Suhail Mohamed Al Mazrouei, UAE Minister of Energy and Industry, and President of the OPEC Conference, said the organization respects Qatar's decision to withdraw from the organization.
While he commended the organization's work in the past year, he noted that its work is still not done.
Al Mazrouei said: "As we look forward to 2019, we see a new set of challenges. This includes the general consensus that prospects point to higher supply growth than expected global requirements and there are signs of a potential slowdown in demand.
"Today, it is vital that we thoroughly examine the potential gap between supply and demand in 2019, and how this might impact inventory levels and the extremely 'hard won' market balance we have achieved over the past two years."
He added: "We need to focus our joint efforts on maintaining the balanced market we achieved in 2018; sustaining the stability we all desire; and, ensuring that there is a firm foundation to allow the industry to make the necessary investments to continue to meet expected future oil demand.
"This will require us to change the strategy we took in June 2018."
He further stated: "Experience has repeatedly shown us that the enduring principle of cooperation and the bravery to try something new, such as the 'Declaration', can bring about great success.
"Thus, it is essential that we look to move ahead with a more permanent relationship with our non-OPEC producers, in order to continuously adapt to ongoing market dynamics, and to help meet the challenges, as well as opportunities, that we will face in the months and years ahead.
"I look forward to your support in delivering the right decisions during our meeting today and your backing for a positive resolution with our non-OPEC friends on Friday."
Offshore Energy Today Staff
Related news
List of related news articles