Sabella Redeploys D10 Tidal Turbine Off France
Sabella's D10-1000 turbine has been redeployed onto its gravity-based foundation in the Fromveur Passage, one of the most energetic tidal sites in France, on Saturday.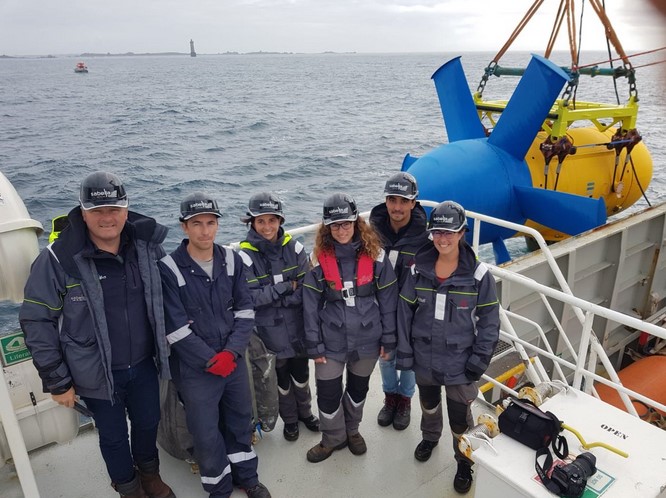 The subsea cable enabling electricity export towards Ushant's Island grid has also been connected to the tidal turbine.
Despite Hurricane Lorenzo causing high swell conditions allowing only a short weather window, the operations were successfully performed by Inyanga.
The operation was conducted using the Offshore Construction Vessel Olympic Challenger chartered from Reach Subsea.
After operating continuously for several months following its redeployment in October 2018 (as part of the European ICE project led by Bretagne Développement Innovation) and a continuous electricity production over several months at the end of last year, Sabella's team focused on testing new control methods at the beginning of 2019 in order to improve the efficiency of the turbine.
In parallel, a defect was detected in the nacelle's cooling system, that allows the various inboard electrical components to be cooled. This defect did not prevent the operation of the turbine but limited its operating conditions due to the possible rise in temperature of the components, which could have caused greater damage to the electrical system. As result the turbine was recovered by the Olympic Zeus in April 2019. Since then, the cooling system has been updated in order to increase reliability.
Sabella seized the opportunity of this onshore period in order to carry out a full maintenance of the control system installed on Ushant Island, which had originally been designed for a one-year demonstration period.
An energy storage system is now integrated into the onshore substation which will allow load-levelling of the electrical output produced before injecting it into the grid.
The D10 tidal turbine will be progressively commissioned within the next few weeks in order to begin the electricity injection to Ushant's Island grid by the end of October.
It will be operated until 2021, after which the commissioning of the Phares project, led by Akuo Energy, including two Sabella tidal turbines, an onshore wind turbine, solar energy and energy storage (implemented by EDF SEI) will be installed.
Diane Dhomé, project manager for Sabella said: "We are very pleased to have completed this operation in such a tight weather window and pleased to have the turbine ready to produce and provide electricity to Ushant Island."
Richard Parkinson, MD of Inyanga Marine Projects and Offshore Operations Manager added: "The site at Passage Du Fromveur has unique challenges- persistent swell conditions, combined with high currents and overfalls. It is a testament to the robustness of the technology and operations strategy that we have safely completed these operations on time and on budget."