Safe Bulkers welcomes 4th newbuild, advances eco upgrades
Monaco-based dry bulk shipping company Safe Bulkers has taken delivery of MV Climate Justice, a GHG Phase 3-NOX Tier III compliant Post-Panamax vessel.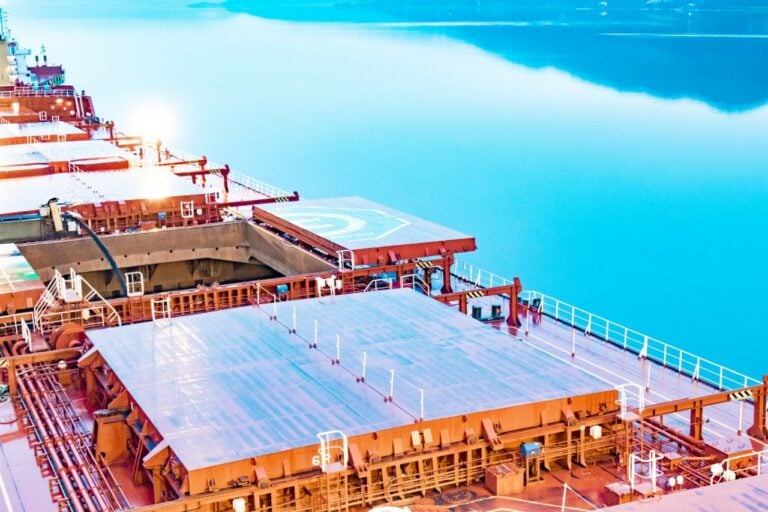 The 87,300 dwt bulker, sailing under the Cyprus flag, was built by Oshima Shipbuilding from Japan and is classed by DNV.
The newbuild is fitted with selective catalyst reduction, ballast water treatment, and exhaust gas cleaning systems (scrubber).
The company launched a gradual fleet renewal program back in 2020, phasing out older tonnage and replacing it with energy-efficient vessels.
Since then, the shipowner has invested in 12 newbuild vessels, of which 10 are Japanese-built and two Chinese-built. MV Climate Justice is the fourth ship from the program.
The first Kamsarmax class newbuild, MV Vassos, was delivered in May 2022 and the first Post-Panamax class newbuild, MV Climate Respect, was delivered in July 2022. The third vessel from the program, the Post Panamax vessel MV Climate Ethics followed suit in 2023.
Safe Bulkers has earmarked $409.6 million for its newbuilding program and is halfway there with the payment of $209.3 million remaining as of July 21, 2023.
The bulker owner is also making headway with its vessel environmental upgrade program for the existing ships, which will involve the application of low-friction paints and the installation of energy-saving devices.
By early 2025, Safe Bulkers' fleet is expected to include 23 vessels with improved energy efficiency with the aim of staying competitive in the rapidly evolving regulatory environment.
The company has scheduled to upgrade 20 existing vessels by the end of 2023. The budget for environmental upgrades in 2023 is approximately $6.9 million.
During the second quarter of 2023, Safe Bulkers completed environmental upgrades on six vessels, namely the MVs Koulitsa 2, Maritsa, Kanaris, Andreas K, Marina and Aghia Sophia, including scrubber installation on the Capesize class vessel Aghia Sophia.
Environmental upgrades were also launched on MVs Pedhoulas Commander and Lake Despina, including scrubber installation on the Capesize class vessel Lake Despina. During the third quarter of 2023, the company has scheduled in total environmental upgrades during dry-dockings on four vessels, with an estimated aggregate number of 120 down-time days.
Safe Bulkers said it was continuing to use biofuels in certain voyages, targeting a lower carbon factor and lower environmental impact through the consumption of less fossil fuel. As revealed in its Sustainability Report for 2022, the dry bulker major consumed 2,910 million tonnes of biofuel in 2022.
"We continue to assess the use of alternative zero or lower carbon fuels and carbon capture which we expect will be developed by the end of this decade," the report reads.
Safe Bulkers made progress last year in improving its emissions profile, achieving a 5.8% and 7.3% reduction in Annual Efficiency Ratio (AER) and Energy Efficiency Operational Indicator (EEOI), respectively, when compared to 2021. However, due to an increase in the transport work, the company's annual CO2 emissions have slightly increased.
"Key developments of the second quarter, include the weakening of the chartering market, which we believe is reflective of economic growth uncertainties, and the delivery of our fourth newbuild. Our strong liquidity and comfortable leverage enable us to be flexible with our capital, and at the same time reward our shareholders with a dividend of five cents per share of common stock," Dr. Loukas Barmparis, President of the company, said.
The company reported net revenues of $70.6 million and net income of 15.4 million in the second quarter of 2023, compared to a net revenue of $66.8 million and a net income of 19.3 million in Q1. Adjusted net income for the quarter was $15.3 million, against 14.2 million in Q1 and a major drop from $50.4 million reported in the equivalent quarter in 2022.
Net revenues decreased by 23% to $70.6 million for the second quarter of 2023, compared to $91.6 million for the same period in 2022.
The decrease was ascribed to lower revenues from hires and decreased revenues earned by the company's scrubber-fitted vessels as well as increased operating expenses.
At the moment, the shipowner has a fleet of 44 vessels, consisting of 11 Panamax, 7 Kamsarmax, 18 Post-Panamax and 8 Capesize vessels, with an aggregate carrying capacity of 4.5 million dwt and an average age of 10.6 years. Twelve vessels in the company's fleet are eco-ships built after 2014, and four vessels are IMO GHG Phase 3 – NOx Tier III ships built 2022 onwards.