Sapura Energy confirms Saudi Aramco LTA
Malaysia's Sapura Energy has confirmed its subsidiaries Sapura Fabrication Sdn Bhd and Sapura Saudi Arabia, were selected to join Saudi Aramco's Long-Term Agreement (LTA) programme.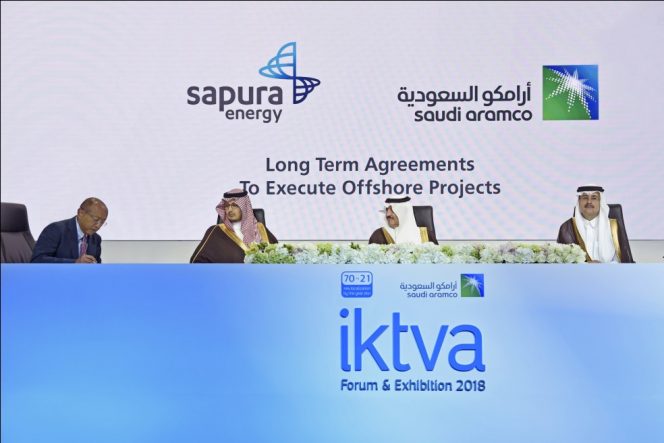 Saudi Aramco earlier this week said it had signed $27.5 billion worth of deals with various oilfield services suppliers, drillers, helicopter operators, fabricators,  during its 4th IKTVA Forum & Exhibition this week at the Dhahran Expo Center in Dammam.
This has now been confirmed by Sapura Energy, which on Wednesday said its LTA program with Saudi Aramco covers engineering, procurement, fabrication, transportation, and installation (EPCI) contracts to support Saudi Aramco's offshore projects.
"Joining the major league of international service providers as an LTA contractor, Sapura Energy will participate in bids for EPCI opportunities by Saudi Aramco. The LTA program will be for a period of six years with options for extension," Sapura Energy said.
"We are honored to be selected by Saudi Aramco for its LTA program. This win is a major milestone for Sapura Energy in line with our strategy to grow the business and deepen our presence in the Middle East," said Shahril Shamsuddin, President, and Group Chief Executive Officer, Sapura Energy.
A key component of the LTA is Saudi Aramco's In-Kingdom Total Value Add (IKTVA) program which aims to drive local value creation with the LTA contractors.
"Sapura Energy is taking proactive steps to fulfill its IKTVA commitments by partnering local businesses and developing local capabilities by leveraging on its in-house technical and project management expertise as well as its world-class fleet of offshore construction assets," the company said.
While Sapura Energy did not provide any concrete numbers when it comes to the value of the potential contract awards that could be signed with Saudi Aramco, Offshore Energy Today on Monday reported on Boskalis and Lamprell signing a long-term agreement with Saudi Aramco, which should bring in "multiple hundred millions of euros."
During an event earlier this week, Saudi Aramco signed agreements with offshore oil and gas specialists such as Shelf Drilling, TechnipFMC, ABB, Schlumberger, Baker Hughes, Airbus, Sapura Fabrication, and Ensco.
Offshore Energy Today staff
Related news
List of related news articles