SembMarine in talks with buyer to complete two rigs following Sete Brasil settlement
Brazilian drilling contractor Sete Brasil and Singapore's offshore rig builder Sembcorp Marine have fulfilled all conditions precedent for a settlement regarding contracts for the construction of seven drillships to become effective and Sembcorp Marine is now in talks with a buyer for the completion of two drillships.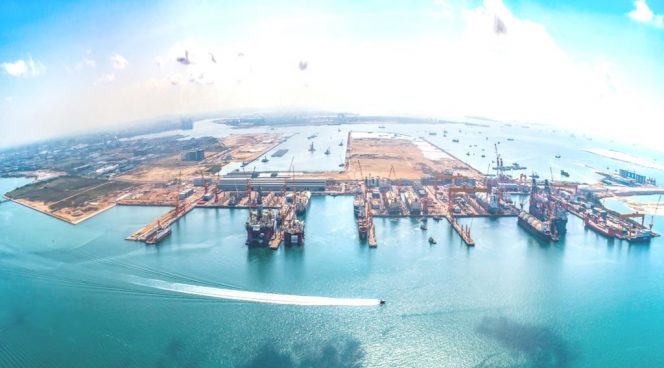 ---
Sembcorp Marine said on Thursday that all conditions for the settlement with Sete Brasil had been fulfilled and that the settlement agreement between the two companies was now effective.
The company will also terminate its arbitration proceedings against the Sete Group as part of the settlement agreement.
Sembcorp added that it was in discussions with a potential purchaser for the completion of two drillships.
The initial settlement with Sete Brasil in relation to a total of seven drillship contracts was agreed in early October 2019. These contracts had a total price of $5.6 billion. Sembcorp's compatriot Keppel also reached a settlement with Sete Brasil regarding construction deals for six semi-submersible rigs.
To put things into context it is worth reminding that Sete Brasil was formed in 2011 to own and operate drilling rigs to be used by Petrobras for drilling offshore Brazil.
The company was subsequently linked to the largest corruption scandal in Brazil, the Lava Jato, which blocked it from obtaining the previously approved bank loans that were meant to be used for rig payments.
In addition, Petrobras refused to commit to the whole rig contract package, which led to Sete failing to pay installments for more than $10 billion worth of drilling rigs it ordered from Sembcorp and Keppel.
In April 2016, Sete Brazil was forced to file for bankruptcy protection due to Petrobras' hesitation to sign the long-term contracts for the rigs.
Following the filing for Sete's judicial restructuring, Sembcorp Marine started arbitration proceedings against various subsidiaries of the Brazilian company for claims under the contracts.
Under a full and final settlement of the claims, it was agreed that all seven contracts would be terminated and the parties would mutually release each other from all claims in relation to the contracts.
At the time of the initial agreement, Sembcorp Marine said that the company would keep all works performed for five of the seven drillships.
In respect of two of the seven drillships, which had the most advanced construction progress, Sembcorp Marine said in October 2019 the titles to such works would be apportioned between the shipyard and Sete in proportion to payments made by Sete.
Sete Brasil also identified a buyer for the companies of Sete Brasil which own the two drillships. The buyer was expected to negotiate with Sembcorp Marine to enter into new contracts to complete the drillships.
It is also worth reminding that two people connected to Sembcorp Marine faced charges for money laundering and corruption related to a drilling rig construction contract with Sete Brasil earlier this month.
Namely, the Ministério Público Federal in Brazil filed charges against Guilherme Esteves de Jesus for money laundering and ex-employee Martin Cheah Kok Choon for money laundering and corruption regarding drilling rig construction contracts with Sete Brasil from 2012.