Shreyas Begins SSL Kolkata Counter Pollution, Salvage Ops
The counter pollution and salvage works for the fire-stricken merchant vessel SSL Kolkata have started, according to the ship's operator Shreyas Shipping and Logistics Limited.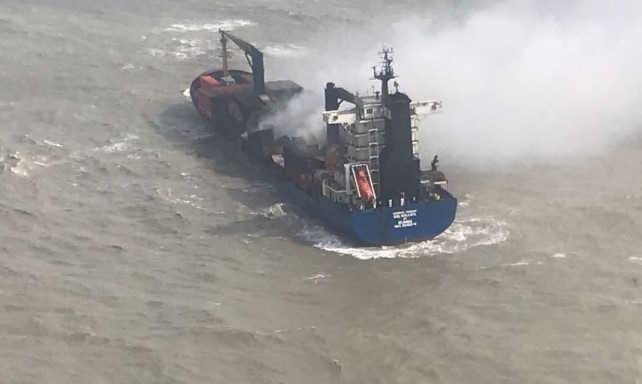 The company said that a team from Oil Spill Response Limited (OSRL) has arrived on site and launched the process of managing the counter pollution response.
Additionally, salvage company SMIT Salvage mobilised its SMIT Borneo platform, which is currently en route to the casualty site to assist with remaining bunker, cargo, and debris removal operations.
Shreyas Shipping informed that SSL Kolkata remains aground in soft mud some 7.5 nautical miles off the Indian Sunderbans, Kolkata, West Bengal.
This follows the explosion and fire in the cargo area on board the SSL Kolkata on June 13 and its subsequent grounding. After fighting the fire, the crew were eventually forced to leave the vessel.
SSL Kolkata earlier developed a list to starboard, with the deck now part submerged.
"The removal of bunker fuel and cargo remain a priority, with the primary aim of protecting the marine environment and preventing any pollution from cargo or fuel oil," Shreyas said.
A specialist clean-up contractor Le Floch Depollution are currently on site in the event of an oil leakage.