SodaFlexx installs dry scrubber system onboard Bontrup's bulk carrier
UK-based equipment innovator SodaFlexx has completed the installation of an integrated dry exhaust gas cleaning system onboard a 65,402 DWT bulk carrier.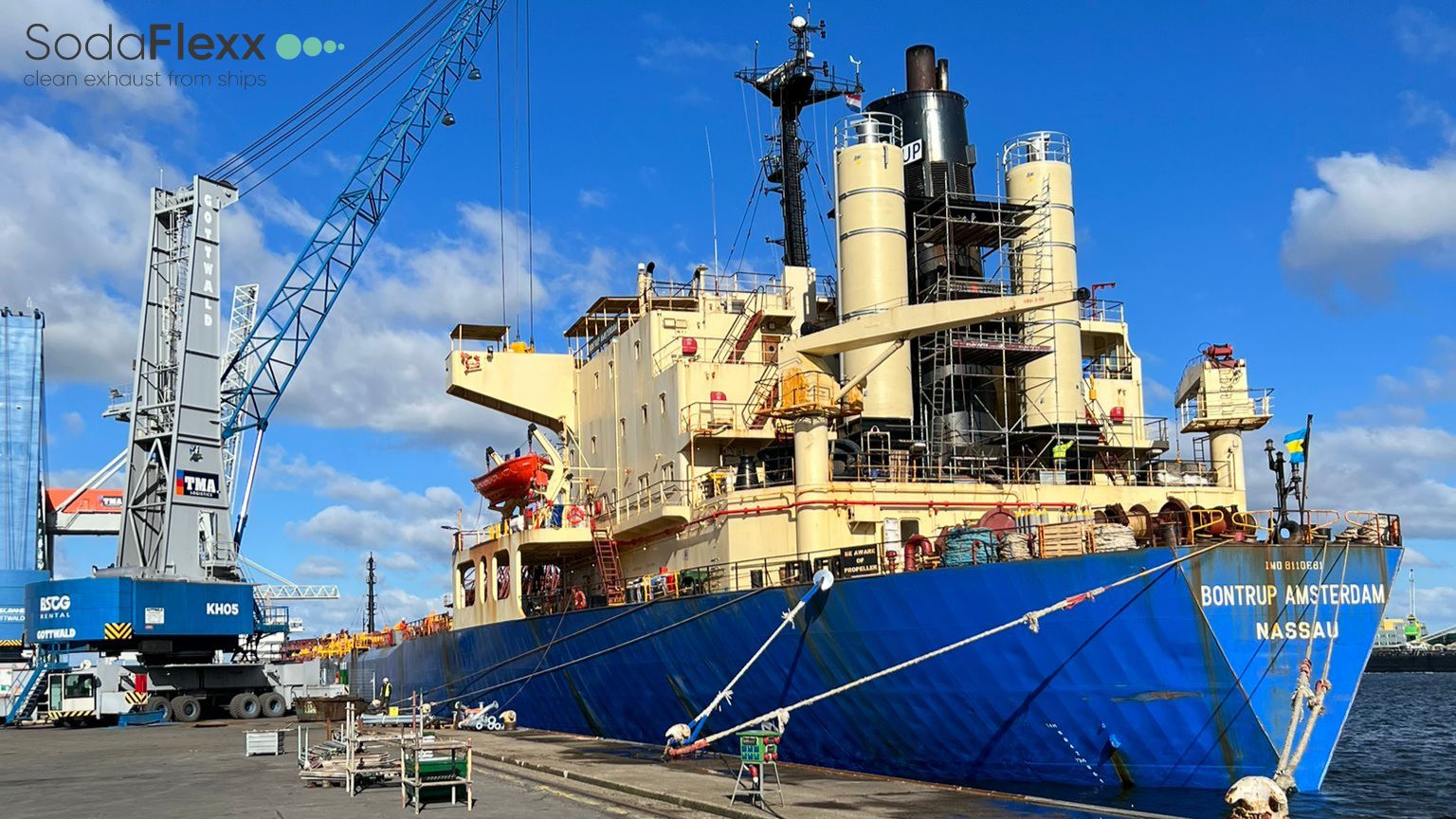 As informed, the installation was carried out in collaboration with compatriot equipment manufacturer Aggregate Industries and Dutch company Bontrup in the port of Amsterdam. The installation took place the last week of February and took less than 3 days to complete.
Most marine engines were designed to burn HFO and this allows for maintenance and lubrication protocols to be carried out.
The SodaFlexx system injects sodium bicarbonate into the exhaust gas stream to chemically alter SOx compounds and transform them into sodium sulphate, a benign salt.
Furthermore, the system allows vessels to burn HSFO without harmful consequences for the environment and with economical and technical benefits for shipowners.
The Integrated EGC System installed on Bontrup Amsterdam has a number of significant benefits. It is fitted to suit the individual ship and gives flexible options regarding the space of the storage for soda bicarbonate, according to the company.
"At BONTRUP we define sustainability as working systematically to reduce the negative impact and enhance the positive impacts on people, society and the environment. As part of our business strategy, we aim to implement environmentally friendly and sustainable solutions into our operations and supply chains. That is why we're keen to further expand our partnership with SodaFlexx. This partnership is a great example of what business can do together by innovating with nature," said Sipke de Vries, BONTRUP Logistics General Manager.
"The technical installation of the SodaFlexx System has been successfully completed and the commissioning is going to take place in March 2023. The project is running smoothly, although we had to make some adjustments right before the installation," said Elwin Koning, Managing Director, Engineering at SodaFlexx.
"The system offers a lot of flexibility and we have a wide range of options we can incorporate to achieve an optimised installation. This new SodaFlexx system uses our advanced Hyperion technology which uses AI to ensure optimal absorbent dosage for the required emissions zone."
"Finding the balance between economical and environmentally friendly solutions for the maritime industry is the ultimate goal of our business. The transition to alternative fuels won't happen overnight and we still have a global fleet to operate in the most sustainable way possible, and burning HSFO with our exhaust gas cleaning system has proven to be less CO2 intensive than using MGO or VLSFO on a "well to wake" basis," Barry Bednar, the SodaFlexx CEO added.
In October last year, SodaFlexx announced it developed a concept to treat exhaust gas emissions from ships with sodium bicarbonate powder. The company is also trialing a carbon capture system that it believes will change the way CO2 is captured and treated aboard ocean-going vessels.