SolarDuck's offshore floating solar array aces LiR NOTF tests
Dutch floating solar specialist SolarDuck has tested its floating solar array model at LiR National Ocean Test facility (NOTF), Ireland's flagship facility for testing and development of offshore technologies.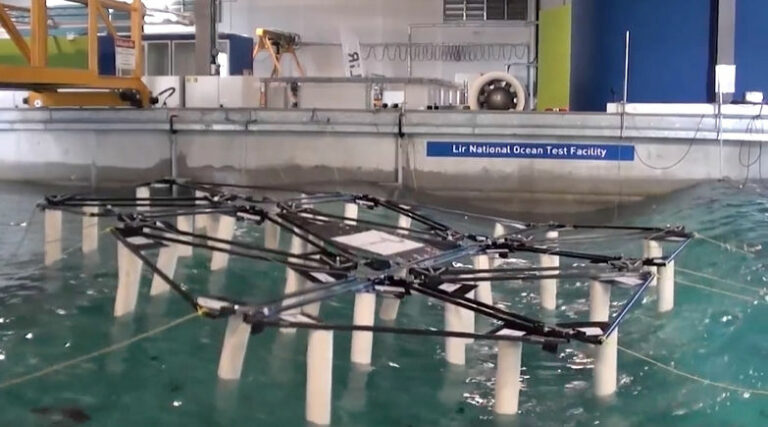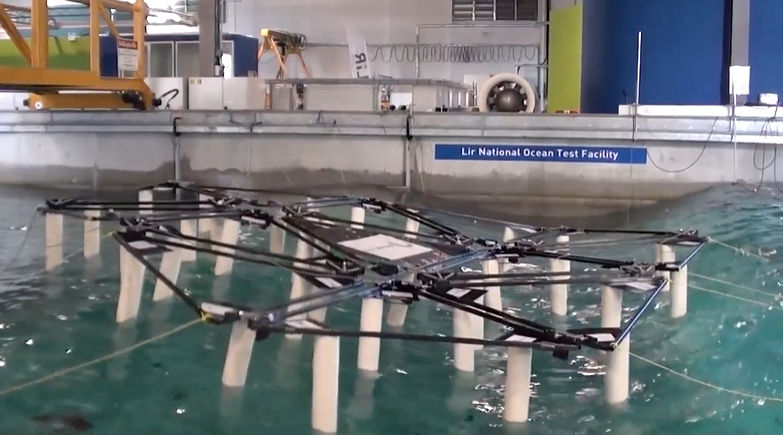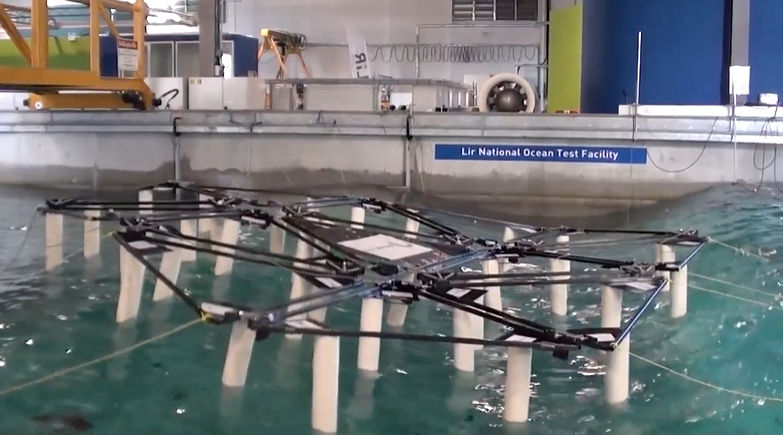 The model represents a full-scale 1MW pilot which will be deployed in the North Sea later in 2022, according to SolarDuck.
The model, consisting of 13 coupled platforms, underwent tests related to induced wave dynamics. These tests are essential for validating the numerical models, and for getting an even better understanding of the platform's behavior in real sea environment, according to the company.
Ewoud Huiskamp, co-founder and engineering director of SolarDuck, said: "We are really satisfied with the performance of the model testing. The airgap (the gap between the water surface and the PV system) has always remained positive at all times, so none of the solar panels will catch any water.
"Also, the couplings have given enough flexibility for the platforms to move with the waves, so the forces remain under control. With that, we can say that a major milestone was achieved on our path to commercializing offshore floating solar."
Ian Power, operations co-ordinator at LiR-NOTF, added: "It's great to have SolarDuck here with us in Cork. SolarDuck found us because we are one of the only facilities in Europe large enough to cater for device of this scale and magnitude.
"They are testing a floating solar array – and the key challenge in the project for us – was to create a model light enough that would simulate the center of gravity it needs at this scale. That's why a carbon fiber foam was used to simulate coupling design, which is very interesting."
In April 2021, SolarDuck launched a prototype floating solar unit in IJzendoorn in the Netherlands. Named King Eider, the unit consists of four triangular-shaped units, which are mounted by 156 solar panels.
Since, SolarDuck's floating solar solution has received Approval in Principle (AiP) from the certification group Bureau Veritas, deemed as the world's first for offshore floating solar energy, which marked the beginning of a new era for this form of renewable energy.
More recently, SolarDuck teamed up with RWE, one of the world's leading companies for renewable energy, to develop the use of floating solar parks at sea, outlining also the plans for integration of such power plants with offshore wind farms.
---
Follow Offshore Energy – Marine Energy
---