Sovcomflot, Gazprom Neft to cooperate on LNG fuel bunkering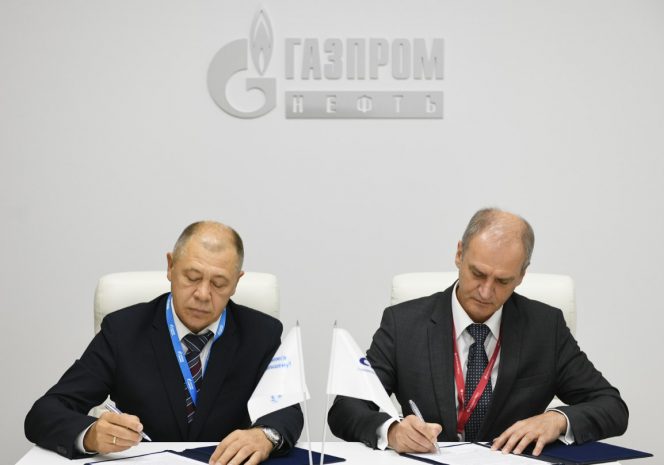 ---
Russian shipping company Sovcomflot and Gazprom Neft Marine Bunker have signed a cooperation agreement regarding the implementation of projects for bunkering ships with LNG fuel.
Sovcomflot said that the agreement reinforces the mutual interest of both parties regarding their cooperation in the bunkering of Sovcomflot's tankers with LNG fuel.
According to the company, LNG bunkering activities also correspond with the state program for expanding the use of gas motor fuel in transportation.
Compared to conventional marine fuels, LNG can significantly reduce atmospheric emissions of sulfur oxides, nitrogen oxides, carbon dioxide, and particulate matter.
Igor Tonkovidov, EVP and COO, and CTO of Sovcomflot said: "We are confident that LNG fuel is the optimal solution from both environmental and economic perspectives for large-tonnage sea transportation."
"Sovcomflot has been systematically working on switching its tanker fleet to LNG fuel for a number of years, and we welcome the opportunity to expand cooperation with Gazprom Neft in this area, combining the efforts of our companies to introduce advanced environmental standards into the Russian shipping sector."
Andrey Vasiliev, CEO of Gazprom Neft Marine Bunker, added: "The stringent tightening of environmental standards under the international MARPOL convention presents a serious challenge both for market players in maritime transportation, and for water-transport fuel-supply companies.
"Gazprom Neft's response to this challenge has been a project to develop Russia's first LNG bunkering barge, and become actively involved in the process of developing Russian regulation governing the use of LNG as a marine fuel.
"I have every confidence that joining forces with Russia's largest shipping company –which already has extensive experience in using LNG-powered vessels – will prove a further step forward in developing a domestic LNG bunkering market and allow Gazprom Neft to take the lead in this new market sector."
In 2018, Sovcomflot was the world's first company to begin operating large-tonnage Aframax oil tankers using LNG as their primary fuel. To date, Sovcomflot's fleet includes six such tankers.
These vessels are mainly used for exporting Russian oil across the Baltic and the North Sea. Also, Sovcomflot has five more LNG-fuelled tankers under construction, following orders placed at the Zvezda Russian shipbuilding complex.
Related news
List of related news articles