Spliethoff takes delivery of 2nd DP2 B-type vessel
Dutch shipping company Spliethoff has welcomed into the fleet m.v. Bloemgracht, its second newbuild DP2 multipurpose vessel, from China's Fuzhou Mawei shipyard.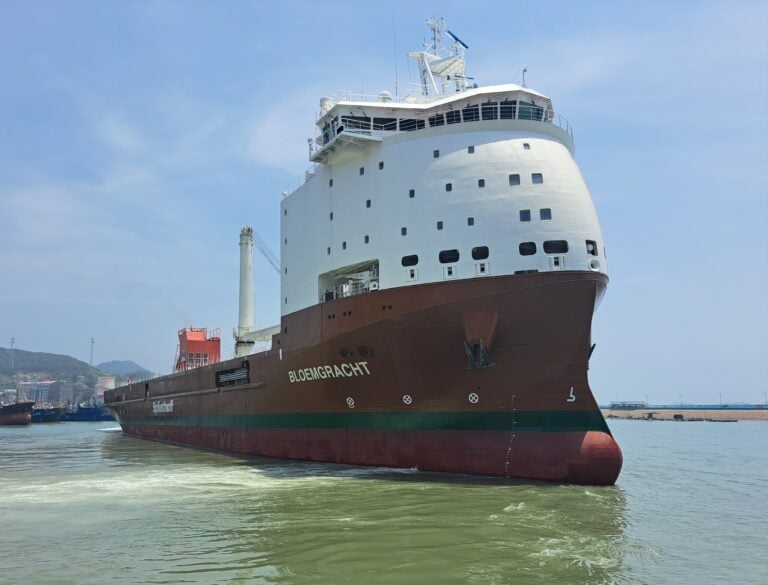 "We are happy to announce that m.v. Bloemgracht has been delivered from Fuzhou Mawei shipyard to Spliethoff Group today, 11 August 2023 at 14:15 (CHN time). The series of two identical DP2 B-type vessels is now complete," the company said in a post.
"The Spliethoff DP2 B-type vessels are the next generation offshore supply vessels with a number of versatile characteristics that make them unique in the market."
The 12,500-dwt vessel is fitted with a pair of Huisman 500 mt Heavy Lift Mast cranes, an advanced automated crane system, purpose-built to streamline the loading and unloading of pipes.
Its design prioritizes fuel efficiency, complemented by propulsion and power generation systems boasting scrubbers and Selective Catalytic Reduction (SCR) systems.
The vessel's concept and basic design were supplied by Conoship in close collaboration with the owner and the yard.
The vessel is being delivered four months after the naming ceremony of the first vessel from the series, m.v. Brouwersgracht, which was delivered in February 2023 from China's Mawei Shipyard.
The DP2 B-type multipurpose newbuilds have been classed by Lloyd's Register and they have 1A Finnish/Swedish Ice-Class notation. Each ship can accommodate up to 60 persons including the crew.
They combine the intake of a multi-purpose vessel with a  superior DP2 station-keeping ability, making them ideal for supplying large volumes and weights of cargo directly offshore.