Stena Line, Brittany Ferries order Leclanché battery systems for next-gen hybrid ferries
Swiss energy storage solutions company Leclanché has been selected as the battery technology provider for two hybrid ferries being built for Stena Line and Brittany Ferries.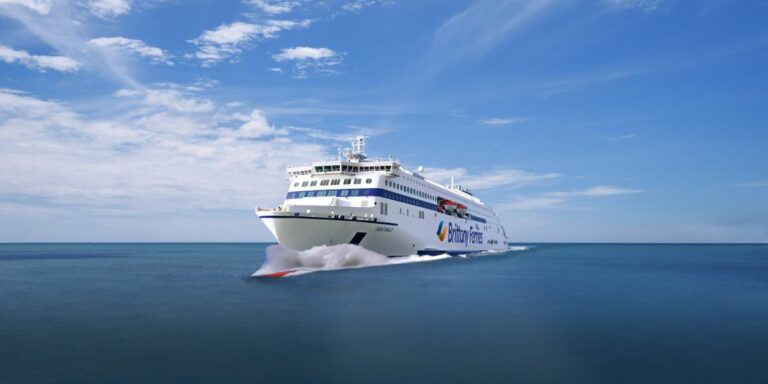 Leclanché will provide two battery systems with a total capacity of 22.6 MWh, or 11.3 MWh each, for the RoPax ferries that are expected to be the world's largest hybrid vessels, surpassing the company's prior marine projects.
The vessels' hybrid propulsion system will be capable of operation using both liquified natural gas (LNG) fuel and Leclanché's third-generation, Navius MRS-3 onboard battery storage system, helping to reduce the environmental impact of ferries and improving sustainability.
The two nearly 195-metre-long hybrid E-Flexer ferries were designed and developed by Sten RoRo, a Stena Line affiliate, in collaboration with Brittany Ferries.
Once delivered in 2024 and 2025, the vessel will be chartered on a ten-year lease to Brittany Ferries for operation between Portsmouth, UK, and the French ports of Saint-Mailo and Caen.
"Stena is a leader in the development of technologically advanced vessels and an early participant in the green shipping transition", said Staffan Stenfelt, General Manager Newbuilding at Stena RoRo. "We're excited to partner with Leclanché in this major milestone in hybridisation technology and demonstrate the importance of flexibility in building next-generation vessels that can adapt to the latest technology developments."
"Brittany Ferries is committed to supporting – and helping lead – the decarbonisation efforts of the maritime industry", added Arnaud Le Poulichet, Director Engineering and Maintenance at Brittany Ferries. "Every vessel we invest in will pay dividends for the environment in the short- and long-term. We are proud to be supporting this green planetary agenda in a meaningful way."
Phil Broad, CEO of Leclanché E-Mobility, said: "We are delighted to join in the efforts of both Stena RoRo and Brittany Ferries in favour of the decarbonisation of maritime transport. These latest project wins further emphasise Leclanché's leadership position in the electrification and hybridisation of large vessels. In addition, these projects will strengthen our order book and our own production capacity, reinforcing the company's positive outlook."