Struggling Heerema Fabrication to sell two yards amid insufficient project volume
Dutch fabricator of offshore structures Heerema Fabrication Group (HFG) intends to divest a significant part of its activities in the field of design and fabrication of complex steel constructions for the offshore market.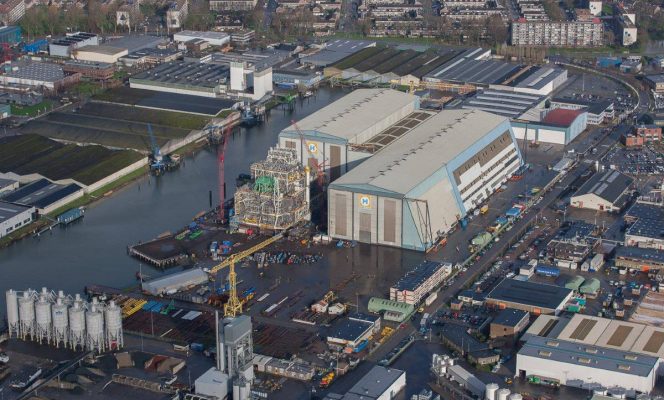 HFG said on Tuesday that this move comes following a strategic review. The company added it has been struggling for some time with insufficient project volume and marginal profitability. In addition, the risks associated with building topsides are high and clients are not prepared to pay for this risk, HFG explained.
As a result of the divestment, HFG intends to dispose of its activities at the locations in Zwijndrecht (The Netherlands) and Hartlepool (United Kingdom). The intended restructuring will see the closure of HFG's head office in The Netherlands. It is anticipated that 60 jobs at the company's headquarters will be phased out.
HFG has signed a letter of intent aiming to sell its activities at the yard in Zwijndrecht with the Italian engineering and construction company Rosetti Marino S.p.A.. It is expected that the transfer of activities will not affect the workforce at the Zwijndrecht yard. In the coming period HFG also intends to seek a buyer for its activities at the yard in Hartlepool. The activities at the HFG yard in Vlissingen (The Netherlands) and Opole (Poland) will continue as they are.
The management of HFG meanwhile has informed staff at all locations about the intended plans and has requested advice from the works council of HFG Netherlands.
"We are very much aware that the intended plans will have a deep impact on our staff at the head office in Zwijndrecht", says HFG's CEO Koos-Jan van Brouwershaven.
The current intended divestment follows a restructuring of HFG in November 2016 that took place against the background of the decreased oil price, the consequent lack of investment in the oil and gas industry and unfavorable contractual conditions in the wind energy market.
Heerema at the time said it would be reducing its workforce count in two yards in the Netherlands, Zwijndrecht, and Vlissingen, as well as in Poland and England.
The restructuring was based on the expectation that the market would improve from 2019 onwards. Van Brouwershaven is disappointed that the reorganization did not bring HFG the results it needed.
"With the ongoing difficult market conditions there is not enough perspective for HFG to continue its activities with the current structure and head office organization," he said.
The HFG yard in Vlissingen, supported by the yard in Poland, will remain focused on the construction of jackets for the offshore industry and at the same time will continue to act as shore base for its sister company Heerema Marine Contractors (HMC).