SunAsia Energy and Blueleaf Energy to develop floating solar plant in Laguna Lake
SunAsia Energy and its investment partner Blueleaf Energy have signed the lake lease agreements with the Launa Lake Development Authority (LLDA), securing the right to develop and construct what is said to be one of the world's largest floating solar projects on Laguna Lake in the Philippines.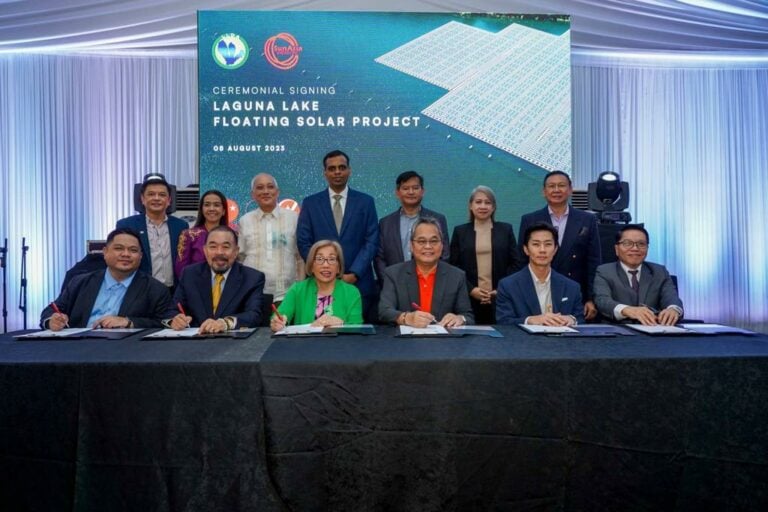 Blueleaf Energy and SunAsia Energy, which was the winning bidder for ten blocks of lake surface comprising a total of 1,000 hectares in Laguna Lake, plan to commence construction of the project in 2025 with operations to begin progressively between 2026 and 2030.
Signing the lake lease agreements secures tenurial rights to progress project development, such as the Environmental Compliance Certificate (ECC), Blueleaf Energy explained.
The combined capacity of ten projects on Laguna Lake, the Philippines' largest freshwater lake, will be approximately 1,300 MW of installed floating solar energy. President of the Philippines Bongbong Marcos declared the floating solar project a national priority.
According to SunAsia Energy, "land use is becoming a big issue for renewables, particularly for solar energy projects. People and policymakers are worrying about competing uses of land. Currently, project developers are struggling to find land to locate the solar power plants. Most of the time, delays in solar energy projects are normally caused by the consolidation of properties and late issuance of land conversion permits. So, there is an incentive to build on water."
Raghuram Natarajan, CEO of Blueleaf Energy said: "We are pleased to have reached this significant milestone of obtaining the lake lease agreements. This allows us to embark on the subsequent tasks of development, commercialization, construction, and operation of the floating solar power plants, which will help fulfill the country's ambitious renewable energy commitments. We would like to thank the Department of Energy Philippines, Philippine Board of Investments, Laguna Lake Development Authority, and other integral agencies involved in this positive development."
Subscribe and follow
Offshore Energy – Marine Energy LinkedIn