Teck teams up with Norden to cut its carbon footprint
Danish shipping company Norden has inked a deal with Teck Resources Limited, one of Canada's largest mining companies, to reduce CO² emissions in Teck's steelmaking coal supply chain.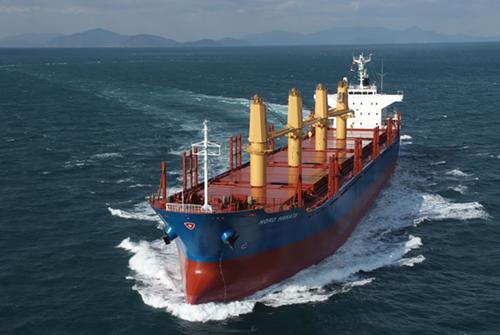 The agreement is expected to reduce annual emissions from Teck shipments handled by Norden by 25%, or up to 6,700 tonnes of CO², equivalent to removing over 1,400 passenger vehicles from the road. 
Norden plans to achieve emission reductions by utilising a range of solutions, including the use of fuel-efficient ships and alternative fuels such as biofuel in combination with an intelligent use of advanced data analytics to optimise vessel speed and routing.
"This innovative partnership with Norden is expected to reduce Scope 3 emissions associated with transportation of Teck's steelmaking coal, reducing our carbon footprint and advancing progress developing green transportation corridors," said Jonathan Price, CEO, Teck.
"Working with transportation providers like NORDEN to reduce emissions downstream of our business furthers our progress towards achieving our net zero by 2050 goal." 
Price believes the partnership with Norden will help the company cuts its emissions and help it achieve its goal of reducing carbon intensity across operations by 33% by 2030 and be a carbon-neutral operator by 2050.
"With this initiative, we are now able to design customer-tailored freight emission contracts where we leverage our combined expertise to develop unique solutions that support our customers' ambitions to lower their supply chain emissions," Norden CEO, Jan Rindbo, said.
"Norden's strategy of helping our customers decarbonise their supply chains means that we in addition to committing to carbon neutrality in 2050, have short to medium-term commitments, where our goal is to make carbon emission reductions towards 2030."
Norden considers biofuel a critical transition fuel on the company's journey to reduce emissions and offer greener shipping solutions.
The advantage of biofuel over other low-carbon fuels is that it can be used onboard vessels without any type of modification to the current engine design, thereby minimising risk for shipowners who are ready to take the step into using biofuel.
Earlier this month, Norden acquired a minority stake in MASH Makes, a Danish-Indian biofuel scale-up which researches, develops and produces renewable fuels from biomass waste.
The investment is aimed at helping secure access to renewable fuels, specifically bio-oil, at favourable pricing.
The company has been testing biofuels since 2018 and has since fuelled both its owned and chartered ships, with various types of biofuel blends.
Earlier this year, Norden teamed up with compatriot Spar Shipping in a project that saw the bunkering of approximately 1100 tonnes of biofuel at Dutch biofuels provider GoodFuels in Rotterdam, the Netherlands, used on two voyages bound for Asia and Africa respectively.
This bunkering represents a continuation of the collaboration between Norden and GoodFuels. In October, GoodFuels joined hands with global certification organisation Control Union and France's IDS Group to test the effectiveness of an isotopic tracer for marine biofuels, and the pilot testing was conducted during delivery of 500 tonnes of biofuel to the Norden-owned tanker Nord Gardenia.