The clean energy pursuit: Speeding up build-out while continuing to innovate
The world now has its first oil and gas platforms connected to a floating wind farm. First projects combining offshore wind and floating solar energy are on their way to being built. Oil and gas majors have been investing in gigawatt-scale renewable energy projects for a while now, and offshore wind players – now also including oil and gas-turned-energy companies – are increasingly investing in nature protection and enhancement as part of their developments.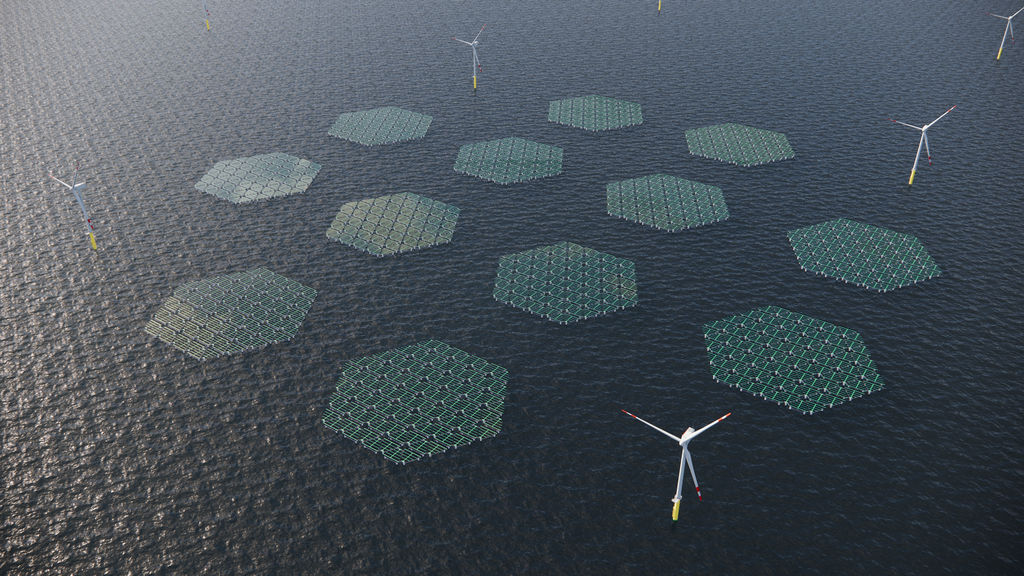 According to the International Energy Agency (IEA), based on the current policies around the world, the global energy system is set to see tangible changes in 2030, if countries deliver on their national energy and climate pledges on time and in full. Still, the IEA warns that "stronger measures" would be needed to reach the goal of limiting global warming to 1.5 °C.
In clean energy and decarbonization industries, the demand to deploy more renewable energy and clean fuel infrastructure (and fast!) puts pressure on governments and the private sector whose supply chain has to catch up with ever-increasing targets and evolving technology.
At the same time, current woes with the security of energy supply have the majority holding tightly to their existing oil and gas resources. To keep the net-zero aim within reach, the number of decarbonization projects in the hydrocarbons industry is growing.
The biggest such project offshore went into operation this year in Norway, where the Hywind Tampen floating wind farm was built to power the Snorre and Gullfaks offshore oil and gas platforms.
Furthermore, as new clean energy projects come on the wings of new technological and methodological solutions, and the industry keeps working on the most efficient approach to add more capacity, innovation remains front and centre.  
From advanced energy technologies, system integration, and bigger wind turbines to new green hydrogen systems, innovation is pushing the envelope in the energy sector. Now, with increasing requirements for new renewable energy projects to be built in a way that not only keeps nature as unaffected as possible but also adds to it, innovation is playing an even more vital role as the energy sector moves forward.
With an "all of the above" task in its hands, the offshore energy industry has found itself working on innovative and more efficient solutions and nature-inclusive projects, while at the same time trying to build as many new clean energy projects as possible to meet the targets.
Large projects come with large responsibility
In the Netherlands, Vattenfall commissioned the world's biggest operational offshore wind farm this year – the 1.5 GW Hollandse Kust Zuid, which was built and is operated without government subsidies.
Having hit its 2023 target, the Netherlands is confident it will reach its 2030 offshore wind goal of 21 GW, especially with its robust supply chain that is also building these projects around the globe, including in the US where two of the country's first commercial-scale offshore wind farms are now under construction in New York and Massachusetts.
In the US, which aims to have 30 GW of offshore wind by 2030, Massachusetts, Rhode Island and Connecticut have entered into a multi-state agreement that enables each state to procure offshore wind capacity for more than one state. According to Business Network for Offshore Wind, this allows for selecting larger projects that would drive new investment in the supply chain and are more beneficial for ratepayers while posing less risk for project developers.
With large projects comes large responsibility towards nature and back in the Netherlands, the government is now adding ecological requirements right from the start – in the tenders.
The last Dutch tender for two sites in the Hollandse Kust West zone has yielded what is deemed "the most ecological wind farm yet", which will be built and operated by Ecowende, a joint venture between Shell and Eneco. Ecowende recently partnered with the largest ecological consultancy firm in the Netherlands to develop a comprehensive ecological program for the offshore wind farm.
The country is actively working on bringing nature-inclusive projects to realization, including through The Rich North Sea program. According to the program's Senior Project Manager Marjolein Kelder, achieving no negative impact is not enough and the industry needs to strive towards having a positive impact on biodiversity.
Combining sources
Minimizing the impact on nature while installing a massive capacity of offshore renewable energy is also one of the leading points of system integration as more generation capacity could be built without the need for more space.
Through the Hollandse Kust West tender last year, the Dutch government also selected a project which will integrate a floating solar energy park into the offshore wind farm. This Hollandse Kust West offshore wind farm will be built and operated by RWE and will utilize floating solar technology developed by the company SolarDuck.
These multi-source offshore energy parks, combining renewables such as wind, wave and solar, are viewed as one of the key components of our future energy system. Besides using less space than would normally be needed to install these technologies on separate sites, Coupled with nature-positive designs these multi-source offshore energy parks can support habitat creation and protection.
These sources, especially when further coupled with storage technologies such as FLASC's energy storage that integrates into floating offshore platforms, are said to help balance and secure the energy supply.
The offshore energy industry will discuss all this in detail on the 28th and the 29th of November in Amsterdam at the Offshore Energy Exhibition & Conference.
Folkert Visser from Ecowende, Ireen Geerbex from Vattenfall, Bas Nekeman from DEME Offshore, and Marjolein Kelder from The Rich North Sea program will discuss the nature-positive approach at the conference session Offshore Energy: Business for the Better.
Speeding up the build-out of renewable energy projects while continuing to innovate will be the focal point of the session Renewable Energy: Innovate or Accelerate with insights from Daniel Santa Cruz from Ocean Winds, Thomas Hjort from Vattenfall, Liz Burdock from the Business Network for Offshore Wind, and Wijtze van der Leij from Damen Shipyards.
This year, multi-source offshore energy parks have a dedicated session on the 29th of November, when Sander Morshuis from SolarDuck and Daniel Buhagiar from FLASC will be sharing more about floating solar and energy storage technologies. The session Multi-Source Offshore Energy Parks: Paving the Way will be held in collaboration with the Dutch Marine Energy Centre (DMEC).
Find out more about the conference and the speakers in the Offshore Energy Exhibition & Conference program.