Three UK-produced ROVs get to work on Petrobras' oilfields
Forum Energy Technologies (FET) has delivered three work-class remotely operated vehicles (ROVs) to Brazil-based OceanPact for deployment on Petrobras' oilfields.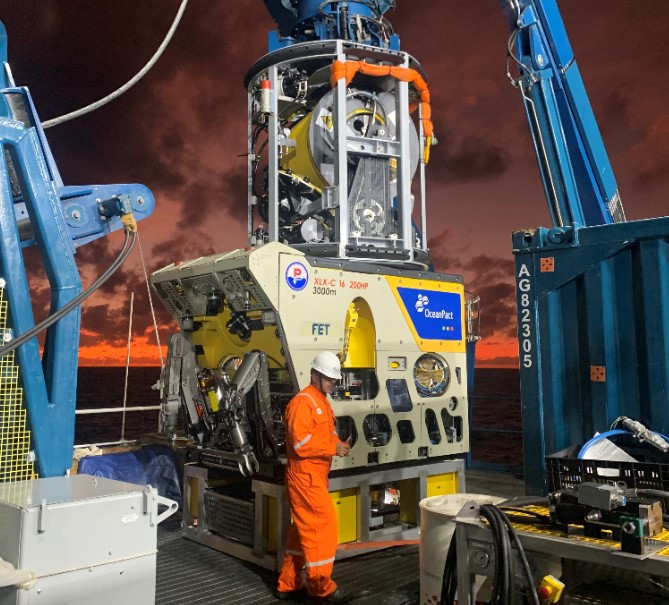 The three 200HP Perry XLX-C ROVs, manufactured at FET's UK facility at Kirkbymoorside, North Yorkshire, will be deployed on two of OceanPact's vessels to support inspection, repair and maintenance (IRM) services for the oilfields of Brazil's state-owned oil and gas giant Petrobras.
Each XLX-C was supplied with an underslung tooling skid for additional tooling and options fitment and a comprehensive supplementary tooling package, including torque tools, verification units and fluid injection systems.
Furthermore, the ROVs were supplied with an active heave compensated Dynacon launch and recovery systems (LARS), as well as associated surface power and control installations.
As part of the scope, FET also delivered a VMAX ROV Simulator configured with a complete XLX-C Console, which is provided with a host of training exercises or 'scenarios', each designed to train and evaluate pilot competence in a variety of skills such as tether management, manipulator control and operation of tooling.
"We continue to see a high demand for our latest generation of XLX-C vehicles as our customers realise the benefits of its enhanced performance within a more compact form," said Simone Pizzolato, FET's Commercial Manager.
"The business has an unrivalled history of producing the most technologically advanced vehicles to the market and we are pleased to have been chosen by OceanPact to deliver their first work-class ROV fleet at such a pivotal time as it expands its subsea operations."
According to FET, the 3,000m depth-rated 200HP XLX-C delivers the high performance of a work-class vehicle in a smaller form. The vehicles are said to benefit from a high-flow auxiliary hydraulic circuit combined with a high payload capacity to carry additional tools and sensors.