Tidewater and GulfMark complete merger after shareholder approval
Houston-based offshore support vessel owner Tidewater has completed its business combination with its compatriot GulfMark Offshore, creating an OSV player with the world's largest fleet. Following the completion, Tidewater has appointed a new CFO. 
The two companies announced their decision to combine and create a new player with the world's largest fleet in the OSV sector back in July 2018.
It was decided in October that the meetings of the shareholders of both companies would be held on November 15, 2018.
At the companies' respective stockholder meetings held on Thursday, November 15 Tidewater and GulfMark stockholders overwhelmingly supported the business combination, with relevant proposals being approved by over 99% of the votes cast by Tidewater stockholders and GulfMark stockholders, respectively, in person or represented by proxy, not including abstentions, Tidewater said in a statement.
According to the company, all necessary conditions to the closing have been satisfied and the business combination has been consummated. In connection with the completion of the transaction, GulfMark common stock ceased trading on the New York Stock Exchange as of the market close on November 15, 2018.
Tier 1 offshore vessels
As per a report by VesselsValue released when the proposed merger was announced, the combined fleet will have 273 offshore vessels.
In its previous statements on the merger, Tidewater focused on Tier 1 vessels. According to Tidewater the combined company will own/operate 102 Tier 1 vessels, of which 20 are currently stacked, with an average age of approximately 6 1/2 years. Reactivation of a combined 20 currently idle Tier 1 vessels is estimated to generate additional annual vessel operating margin of $32 million.
The combined company will be operated under the Tidewater brand and will be led by Tidewater CEO John Rynd.
Tidewater's President and Chief Executive Officer, John Rynd, commented, "We're excited to welcome the GulfMark team to Tidewater, and we look forward to commencing the work of integrating our fleets and shore-based operations in order to quickly and fully realize the strategic and financial benefits of this business combination."
New CFO named
Following the completion of Tidewater's business combination with GulfMark Offshore, Quinn P. Fanning has stepped down from his position as Tidewater's Chief Financial Officer. Tidewater's board of directors has appointed Quintin V. Kneen, who served as President and Chief Executive Officer of GulfMark prior to the business combination, as Tidewater's Executive Vice President and Chief Financial Officer.
While these changes are effective immediately, Fanning will continue to serve Tidewater for a period of time in order to ensure an orderly transition, the company stated.
Rynd commented, "Quinn has been a key member of the Tidewater executive management team for many years. His hard work, perseverance and intellect were critical to Tidewater's ability to negotiate a consensual pre-packaged Chapter 11 restructuring with our creditors, thus establishing the foundation for consolidation and growth that we are on today. His significant efforts, energy and leadership also helped us to successfully complete the business combination with GulfMark."
Rynd also added, "We very much welcome Quintin to the management team. As President and Chief Executive Officer of GulfMark, Quintin navigated that company through its own pre-packaged Chapter 11 restructuring. Along with GulfMark's board of directors, Quintin led GulfMark through the critical process of determining the most appropriate merger partner to enable GulfMark to capitalize on its impressive financial and operating position."
VV: Chance to reduce oversupply 
Commenting on the Tidewater & GulfMark consolidation, Charlie Hockless, Head of Offshore at VesselsValue, said: "The consolidation between GulfMark and Tidewater is a positive for the market. With Tidewater's steadfast and unyielding attitude towards the scrapping of non-performing vessels, this is a good chance for the market to reduce some of its oversupply. Hopefully with this new entity taking the lead, other market players might follow suit."
He added: "It is also important to note that consolidation in today's market only works if lenders are willing to take haircuts and provide an opportunity for these companies to start afresh with a clean balance sheet. In the case of Solstad Offshore, they undertook restructuring and consolidation as well. However, without a clean balance sheet, problems are only going to resurface further down the road. Bourbon is another major player who have struggled to service their debt and are actively looking for financiers. Kicking the can down the road is not a viable option in this market."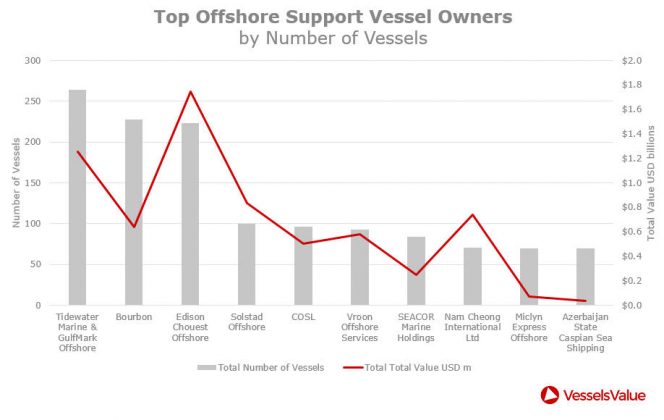 ---
Offshore Energy Today Staff