TotalEnergies and Green Marine team up on methanol bunkering study in Singapore
TotalEnergies Marine Fuels and Green Marine Bunkering have entered a memorandum of understanding (MOU) on a joint development study on methanol as a new marine fuel in Singapore.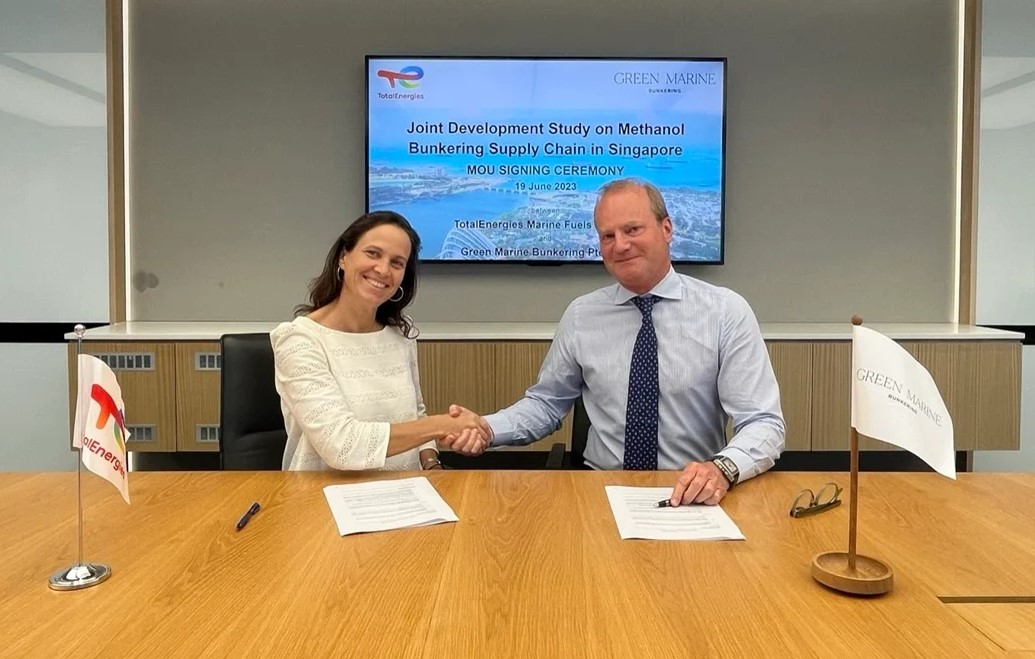 Under the partnership, TotalEnergies Marine Fuels and Green Marine Bunkering will study the feasibility to implement a viable methanol bunkering supply chain in the country.
"We are excited to join forces with Green Marine Bunkering for this joint initiative, to advance our development of methanol as a safe, efficient and scalable bunkering solution in Singapore. This joint study is in line with our goal to offer our customers a suite of alternative sustainable fuels that will support the shipping industry's decarbonization journey," Louise Tricoire, Vice President of TotalEnergies Marine Fuels, said.
"Green Marine's team of methanol experts has world-leading expertise in using methanol as marine fuel and technical operations of methanol dual fuel MR tankers since the first vessels were delivered in 2016. We are extremely proud of engaging with TotalEnergies Marine Fuels in this methanol bunkering project in Singapore, which is imperative for the further acceleration of shipping's transition to a cleaner future through methanol powered technologies," Morten Jacobsen, Group CEO of Geen Marine, said.
Shipowners are increasingly interested in methanol as a marine fuel. Industry data showed methanol was the second most popular alternative fuel choice for new vessel orders in 2022. In the container ship segment, duel-fuelled methanol boxships orders have grown faster than all other orders
TotalEnergies Marine Fuels joined the Methanol Institute last year to connect with the methanol ecosystem, and identify opportunities for partnerships that will help advance and standardize the application of methanol as a marine fuel.
Currently, TotalEnergies produces approximately 700 KT per year of methanol in Germany and is working on various projects related to low-carbon methanol technologies. One of TotalEnergies initiative is the e-CO2Met, a pilot project launched in June 2021 near TotalEnergies' Leuna refinery in Germany, which will convert CO2 and renewable power into e-methanol.