TUI Cruises trials B30 biofuel onboard Mein Shiff 4 for the first time
German cruise line TUI Cruises has revealed that it has tested B30-blend fuel on its ship Mein Shiff 4 as part of the vessel's voyage beyond the Barents Sea to the islands of Svalbard.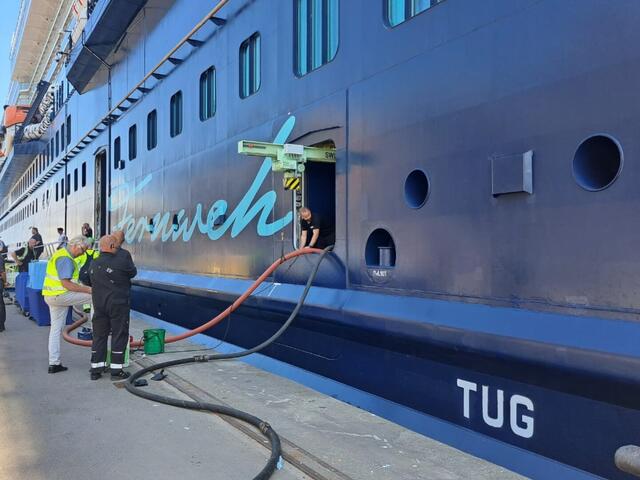 As informed, the bunkering was conducted at the Port of Aarhus in Denmark. Marine fuel supplier Bunker One supplied the vessel with a gasoil blend containing 30 per cent advanced 2. generation FAME bunkered by trucks.
According to TUI Cruises, the fuel, which is derived from cooking oil, offers a significant reduction of sulphur oxide particles as well as carbon emissions reduction by up to 90 per cent compared to fossil fuels.
The ship has set sail again from Kiel towards Spitsbergen and Geirangerfjord as well as Sunnylvsfjord. Mein Schiff 4 also plans to use green shore power while it is docked in the state capital of Schleswig-Holstein, Alesund and Bergen.
The biofuel test run on Mein Schiff 4 is another milestone in TUI Cruises' new 2030 sustainability strategy. 
By 2030, the cruise lines of the TUI Group plans to reduce carbon emissions by more than a quarter (27.5%) compared to 2019. 
The company is also the first in the cruise industry to have its climate targets checked and validated by the Science Based Targets initiative (SBTi). This will be achieved by using shore power and clean fuels, according to TUI Cruises.
"The completed test phase on board Mein Schiff 4 is extremely important for us and the climate goals that have been set. Then: The biofuels can be used directly in the ship's engines without costly conversion or conversion measures. This shows once again that we are not only investing in more sustainable cruises with our newbuilds such as Mein Schiff 7 but are also making every adjustment to the existing fleet to become better and even more climate-friendly," said Lucienne Damm, Head of Sustainability at TUI Cruises.
To remind, the construction of the firm Mein Shiff 7 has recently marked a milestone with the installation of main engine.
The construction of the giant cruise ship, being built by Finnish shipbuilding company Meyer Turku, was launched in June 2022 and reached the hull assembly stage in March 2023. The cruise ship will be classed by DNV and it is scheduled to be completed in 2024