UK port bids adieu to Noble rig following ten-month stay – gallery
After ten months, Noble Corporation's jack-up rig has left the UK's Kishorn port (KPL), a 50/50 joint venture between Ferguson Transport (Spean Bridge) and Leiths (Scotland).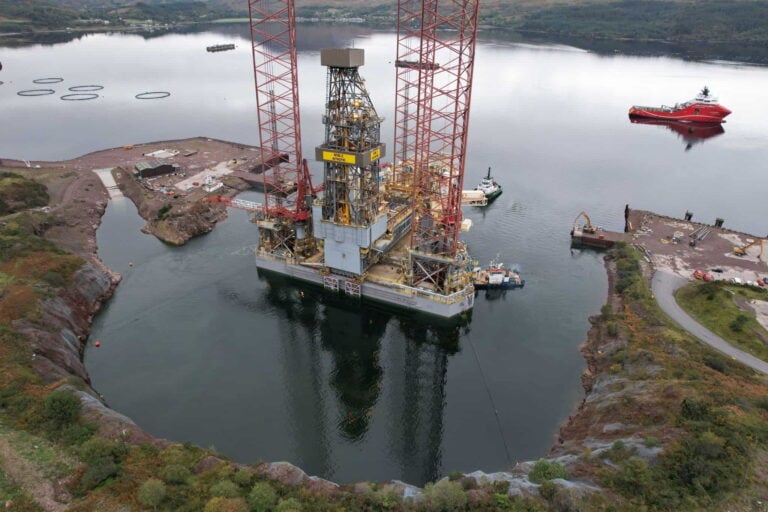 In mid-December 2022, the port welcomed the Noble Intrepid jack-up drilling rig, which completed its drilling campaign with OMV in Norway, prior to its journey to KPL. This rig is an ultra-harsh environment jack-up rig, designed for year-round operations in the North Sea and featuring hybrid, low-emission upgrades.
According to Kishorn, the rig left the port recently in preparation for its ten-month contract with Harbour Energy for the provision of accommodation services at the Judy field in the UK sector of the North Sea, with a contract value of $28.5 million. With a day rate of $95,000, the deal is expected to start in December 2023 and end in September 2024.
However, Harbour can extend the contract further as it has two one-month options for accommodation services at $95,000 and one three-month option for well services at $120,000. If these are exercised, the rig's assignment with Harbour will be prolonged for five months.
While saying goodbye to the rig, Kishorn stated: "We at KPL and our Kishorn port team bid farewell to the 'mighty Noble Intrepid' this week, to pastures new and onto the next part of her working journey. We have welcomed one of the largest jack-up rigs in the world into our dry dock and had the pleasure to look after her, along with the crew and contractors for the last ten months.
"It really has been a pleasure and we wish a safe journey to all who work and sail on her. To Avantis, the contractors on the project and Noble Drilling our client, we thank you for the business and hopefully, we can support you again sometime in the future. From all at KPL and its partners Ferguson Transport & Shipping and Leiths Scotland, we wish you all the very best for the future."
The 2014-built Noble Intrepid rig is of a Gusto MSC CJ70 X150 MD design. It was constructed at Keppel FELS shipyard in Singapore. This jack-up can accommodate 150 people. Capable of working in a water depth of 492 ft, the rig's maximum drilling depth is 40,000 ft.
Noble got several new drilling assignments recently, including a new contract for one of its seventh-generation drillships in the U.S. Gulf of Mexico. In addition, one of the drilling giant's harsh-environment jack-up rigs, which is currently undergoing repairs, has been hired by TotalEnergies.
This will be the rig's first job after experiencing a mechanical failure with the jacking system on one of its legs in late 2022.